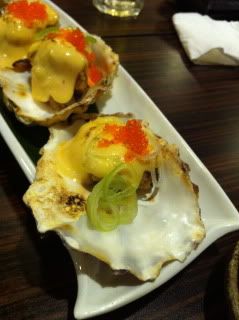 Dynamite oysters
Miz Japanese Restaurant is a few doors away from Pasta Brava (one of my favorite Italian restaurants) and I've always walked past it making a mental note to 'try it out the next time' but never quite got around to doing it. It was in fact, a colleague of mine who had recently moved to a new place around the area that introduced it to us and a bunch of us swung by the other night.
Don't expect any fancy ambience here just decent Japanese food that is priced reasonably. The must-orders are the dynamite oyster and scallops. If you have tried the 'Shiok Maki' at Koh's Sushi at Wisma foodcourt, this is quite similar in taste. I'm not typically a big fan of oysters but I wouldn't mind eating a few portions of this variant. I swear anything with Japanese mayonnaise tastes extra yummy.
We ordered a few more dishes and our mains and frankly, all turned out well. The tofu steak was another winner - love the lightly fried skin that was soaked in a sweet sauce. B.T's beef shabu shabu came in a modest serving size but the broth was light and tasty with tender pieces of beef.
Ramen is offered at Miz but there is only one option - pork ramen so I ordered that and if you like ramen noodles that are the yellow sort, springy and slightly chewy, this one will win you over. I still prefer the Hokkaido white and hard ramen (ones served at Tampopo) or the ones at Miharu but this one is quite nice for a change as well. The pork bone broth is thick, not too salty and decent oomph in flavor. Pork pieces are different from the usual char siew slices and are instead chunks with thick layers of fat. Personally, I prefer the traditional char siew slices. But overall, a good bowl of ramen, loads of noodles and definitely fulfilling.
I'm quite glad we finally checked out Miz and we are quite certain that we will be back.
Miz Japanese Restaurant
7 Craig Road
Singapore 089667
+(65) 6225 5761
♥ Help Japan recover
(
Collapse
)