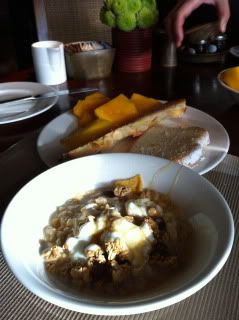 It's easy to go overboard with food when traveling and I usually land up eating more for breakfast than normal. A typical breakfast for me here is a bowl of Nestum or rolled oats with a spoonful of Horlicks and/or Milo. I do indulge a little whenever I travel though I try to keep it healthy to a certain extent.
A bowl of cereals in low-fat yoghurt and soy milk is a standard, some fruits and the treat is pancakes or in the picture above, an almond stick and lemon tea cake.
What do you eat on business travels for breakfast? Do you tend to overeat? I'm curious to know.
♥ Help Japan recover