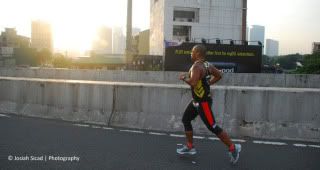 Running - a big part of Hector's life
31 year old
Hector Yuzon
is an avid runner and triathlete who is currently living in The Philippines. He is a familiar face in the Manila Filipino running community as he owns two running specialty doors in The Philippines and is frequently seen at local running and triathlon races.
The Secondwind Running Store
is a result of his passion for running.
It is heartening to meet like-minded runners that share the same passion for running as me. And the passion that Hector has for running is evident. His running specialty door is what I would call, one of the few authentic running stores in Asia. They remind me of the running stores that you would see in the U.S. As Hector puts, he literally lives and breathes running now. No complaints. It is a dream that he has successfully pursued. Perhaps, his story might inspire or motivate some of you to follow your dreams and turn it into a reality.
(
Collapse
)