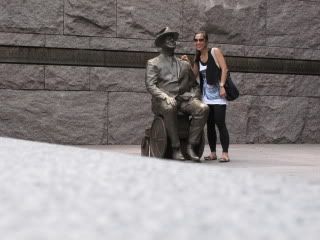 Took this using a self-timer much to the amusement of the park ranger



The FDR Memorial wasn't on my list but after seeing (on the map) that it was close proximity to the Lincoln Memorial area, I decided to walk over to take a look.

It looks small from outside but if you go all the way in, you'll land up at a large open air memorial park. It was inspiring reading all the stone inscriptions.

Further along the way is the Jefferson Memorial. It's a beautiful standalone white building with tall circular columns and if I recall correctly, it sits near the Tidal Basin.

I love how a memorial is built to commemorate each of the Presidents of the United States, that have made a difference to the country and allowing the future generations to visit and learn.

This concludes my travel writings on Washington D.C. If you wish to have a reference of D.C, click here. You can also search on my main site for 'DC'. All my travel entries are tagged 'travels' and 'country that I've visited'.

Next up, will be my adventures in Hong Kong.