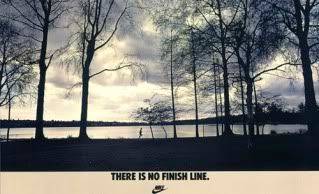 The weather was great. The legs weren't.

Today, I realized why track work is scheduled on Tuesday and tempo on Thursday. You whack your legs hard on Tuesday and do an 'easier' tempo run two days later to lead up to the long run on Saturday. And when I say long, I really mean long.

The 18 miler wasn't something that I was looking forward to. But I was quite determined to clock it in. I have skipped a few long runs (of varying mileage) and was getting worried that I wasn't exactly following the training program. I decided to switch around the track and tempo runs and I paid dearly for it during the long run.

The legs were still feeling the fatigue from the track sesh two days ago. I did managed to get up early but 4 consecutive days of getting up earlier (at 630am) was taking a toil on me. I haven't had a decent 7 hours or more of rest for the last few days and my body was clearly tired out. Like I said, the weather was great. The sun only started to creep out an hour into the run and it stayed behind the clouds so it wasn't in the least hot nor humid. It was a perfect day for running.

I am rather disappointed that I didn't hit my target pace and it was one of the slowest runs that I have done. I am happy that I managed to hang on to the very end and complete all 18 miles of it. I often ask myself, Why the heck am I doing all this running to torture myself?

Honestly, my current schedule revolves all around my training program. I am making the effort to still maintain a decent social life but sometimes, I have to make sacrifices like I couldn't afford to meet up my friend (whom I've not seen in 2 years) and go for a friend's birthday party. So I landed up having to choose between the two. But you know what, as hard as it gets, I don't think I will or can stop running. It's very much a part of me that I cannot shake off.

That picture above? That is one of my favorite ads from Nike. The tagline consistently stays at the back of my mind.

There is no finish line.

Running, is just like life. There isn't really a finish line. You can't say that I've arrived and there's absolutely nothing for me to achieve or look forward to. That day doesn't come till you leave the world. One of my mantras is to live life while I am alive. I keep trying to move forward and keep going to achieve whatever goals I have in mind. Failure is expected for success to be achieved. If I fail, I pick myself up, learn from it and keep going. If you don't experience failure or make mistakes, you will never be able to truly achieve success.

I started running in late 2004 and got into it seriously in 2005. I like running because I feel that I can make achievable goals along the way. Even if I don't meet my targets, there is always the next race. When you achieve a goal, you will feel damn good. And you will keep making more.

You run your own race, no one can tell you how fast or slow you should be running. Look around you, there will always be someone who is faster and slower than you (unless you are the champion) but you don't let it bother you because you are running your own race and attempting your own targets.

I firmly believe that anyone can run and can complete a race (of various distances). If you DNF (did not finish), it is either because you collapsed, or you are injured or you have mentally given up. For the first reason, well, it's self explanatory. The second, it is the wise choice to stop when you are injured. The third, I always think running (especially longer distances) is more of a mental thing rather than a physical challenge. If you are tired, you can walk to the end.

When I started doing triathlons, I couldn't exactly swim. I was told that I paddled like a dog. So I learned from scratch and managed to swim decently, freestyle, some 6 months later. I took my first swim in the sea. It was daunting but I was so happy that I finally conquered that fear of swimming in the sea. Then I learned how to bike properly, to bike on the roads and in a race. It all felt good achieving all these little goals. But nothing felt better than running the last part of a triathlon. It was home-run for me, where I felt the happiest.

When my friends or colleagues take up running, I am happy. They are happy because they can shed some pounds or achieve a certain distance. I smile to myself because I know that that isn't the only thing that they will benefit from. I have learnt to much through running that over the years, I will say that I have become a better person because of running.

For the entire 18 miles, there was a lot that was going through my head. I wanted to give up many times. But I kept chanting, Andrea, you can do it. I can do it. I can do it. I distracted my mind from the tightness in my muscles by reflecting on the week that just passed. I kept setting small goals for me to achieve - just 1 more mile, just until the next lamp-post etc. It is tempting to give up and just go back home. But I think of how good I will feel after I have ran it all.

Running has taught me so much, I don't quite know where to begin from. My mental endurance is strong, I don't give up as easily as I used to. I have learnt how to persevere and not give up at the slightest obstacle. I am more confident because I feel good after each run. I see the way running tones up and trims down the waistline and gives me overall confidence of my body and myself. I have become more focused and known to be highly efficient and good at multi-tasking. Running has not only made me stronger physically, but mentally and I have become a better person because of it. I strongly believe that is why people engage in sporting activities as it truly builds character and helps develop a person in all aspects.

People have asked if being in the top sports giant has influenced my love for running in any way, I had say, Yes, to some extent. I won't say that I started running because of the Swoosh, rather, I was already running before I joined it. I am glad that after 3.5 odd years, being directly involved in a job role that is all about running, has not made me in any way jaded or sick of the sport. It it not work for me most of the time as I am doing something that I hold close to my heart. I am quite certain that should the day come where my work no longer revolves around 'running' per se, it won't affect my interest in it.

I hope that if my body allows, I will be able to continue running for as long as possible. My co-workers often joke that they can imagine running even when I am an old granny. I hope! I also hope that I will continue to inspire the people around me to take up running and enjoy it as much as I do.

So this is why I run. How about you? Do share!

Today. 18 miles. 1,418 calories burned. You don't want to know how many hours I was running for! I think I need to invest more in sun-protection and whitening products! Heelp!