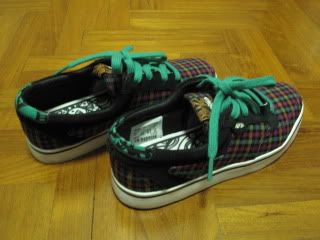 Nike 6.0 Braata Women's shoe



This Nike 6.0 Braata shoe, which if I recalled correctly, isn't available in Singapore, was bought from the U.S. I wanted a style from this range and bought this design although it wasn't quite 'me'. -_- The Nike 6.0 brand is a special range providing footwear and apparel for the action sports atheletes of surf, snow, ski, BMX, wake and moto. My favorites from this range is this Braata and the Balsa. Anyway, I decided to sell this pair because I would appreciate a solid color option instead.

If you are interested, please contact me - andrea_goh77[at]yahoo[dot]com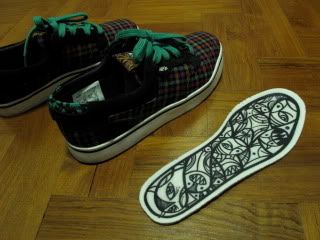 Another picture of the shoes with the really cute removable insoles. I love the design on it!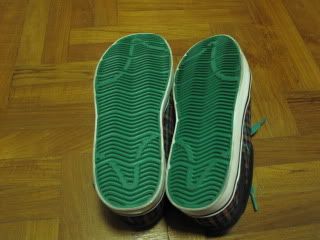 The almost brand new soles



Item - Nike 6.0 Braata Women's Shoe
Size - U.S 5 (sizing is different from the standard Nike sizing. I'm a US 6.5 and wear Nike US 6.5 but the U.S 5 fits me)
Women's fit
Description - Leather, suede and textile upper, lightweight and comfy with a flexible rubber outsole for good traction and durability. Gingham pattern with contrasting green laces and Nike 6.0 logo.
Reason for selling - This design is not really 'me' and it doesn't match my many dresses :P
Condition - Very good. Worn only once.
Selling price - SGD$33 (it's currently retailing for USD$63 and I am selling it much lower because I got a discount so I am not making money from this sale or covering the cost that I paid for this shoe.)

The other stuff from previous yard sale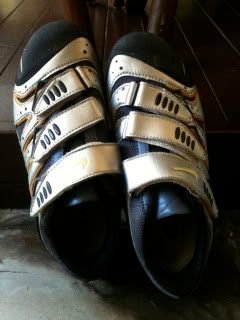 Nike MTB cycling shoes (Clipless)



Nike MTB cycling shoes suitable for clip-less pedals.
Color - Mainly silver with grey-blue
US size 6-6.5
Women's fit
Reason for selling - No longer cycle!
Selling price - S$20 S$18 (Cash only)
Condition - Good but looks 'dirty/worn'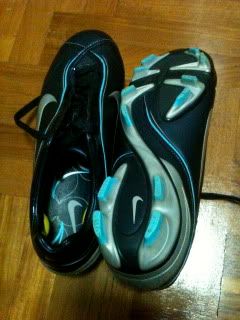 Nike Women's First2 Pro FG (firm ground) soccer boots



Color - Dark obsidian with silver and chlorine blue (matte finish)
US size 6-6.5
Women's fit
Has a floral print insole and the yellow memory foam for better fit and comfort.
Reason for selling - Got it for Ultimate frisbee but had to stop playing after the start-stop action in frisbee worsen my knee injuries incurred from running.
Selling price - S$30S$27 (Original retail price was about USD$150) (Cash only)
Condition - Good. Used less than 10 times.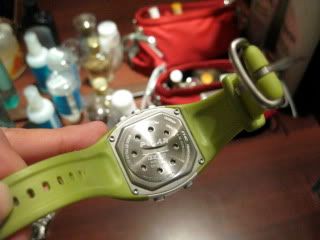 Back of the watch - still clean looking and good condition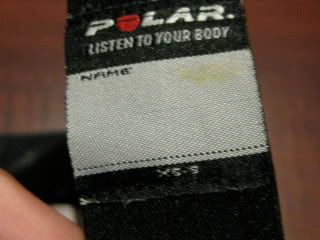 Strap size XS-S and personalization portion
Strap and sensor attachment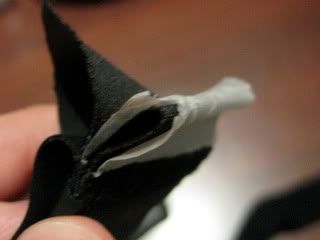 Part that has torn



The portion where you hook to connect the strap ends is torn on the outer-most layer - black portion. The middle inner layer (white fabric) still holds and it still can be used. Innermost layer (black) is still intact. If you wish to replace the strap, it can be done so

Polar FT40F with heart-rate monitor (HRM). Technical specifications here
HRM strap size - XS-S
Color - Apple green
Women's

Measures heart rate with heart rate max and min zones, calories burned, timer, has dual-time zone, backlighting and replaceable battery.

Reason for selling - Now using a Garmin 405 Forerunner GPS with HRM. I love using this Polar HRM because it's really easy to use. However, I am now working on speedwork and require a gadget that can track my pace and distance and map my routes.

Selling price - S$110 S$99 - bought it for S$230. (Cash only)

Condition - Watch is in good condition. Had it for 1 year+. Wore it for my first NYC marathon! HRM strap is in fair condition - everything is fine except the part shown above in the photo. The HRM strap can be replaced for S$30 from here. I called Polar last week to ask about the price of the replacement strap. Reason why I'm selling it off for more than 50% off though the watch is in good condition - in case you wish to replace HRM strap which costs S$29.

What's included - box not available, watch, HRM strap and sensor attachment, warranty, soft copy of receipt

*Please email me to enquire about warranty status. I have the receipt of purchase as well in soft copy which states price. I will only email it after purchase to safeguard the watch receipt from mis-use.