Georgetown was a favorite hang-out place for me in Washington D.C. It reminded me of Chapel Street in Melbourne. Somewhat quaint with the cobblestones, low-rise shops and small streets. I loved it so much that I went back not twice but thrice!

Other than the fact that Georgetown has the famous Georgetown cupcakes, it also hosts a range of popular brands such as Steve Madden, Urban Outfitters, Gap, A&F, Apple and more. I did spend some time browsing and shopping around. The only downside is that during the summer where the temperatures are high just like when I was there, it gets really hot to walk around!

It is definitely a must-visit and of course, don't forget the check out the cupcakes when you are there. I'm still thinking about it..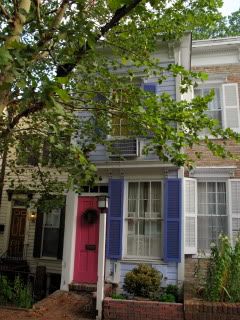 Georgetown's narrowest house - it's only 7 feet wide!!



In the past, the people that owned houses were taxed based on not how big the house is, but how wide it is. So someone tried to build the house as narrow as possible! It's really tiny and I heard it's just about 7 feet wide! It recently sold for half a million USD.

It was also featured on Apartment Therapy.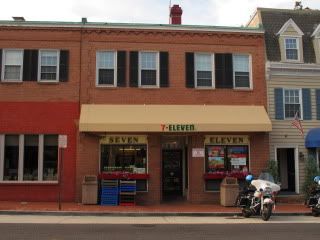 Isn't this the cutest 7-11 store ever?



The buildings in Georgetown have to follow a certain specification. It has to be a certain dimension and decor so even the convenience store has to follow the rules. This has to be the most toned down 7-11 that I've seen. Usually, it has lighted signs on the outside with racks of stuff being sold. I think it's actually one of the most unique and nicest 7-11 that I've seen :P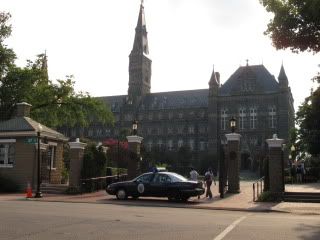 Georgetown University



It's not Ivy League but it's up there. An A-class university, I was told to visit this place. However, it wasn't planned when I came by as I was actually lost and chanced upon it! I wanted to go in but turned around after seeing a sign that said 'Outsiders aren't allowed in'. B.T was surprised when I told him about the sign. Perhaps I mis-read or something :\

Meanwhile, this week's training is going fine so far. In the sense that we are hitting the schedule. Today's 6x800m track repeats went good. Tiring but I pushed myself hard and clocked in decent timings :)