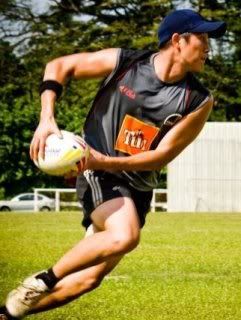 Devon at touch rugby



32 year old Devon Wong hails from New Zealand, Wellington and has been living in Singapore for almost a decade. He earns a living as an IT manager and spends the bulk of his free time engaging in sports. In fact, one might feel tired just listening to the activities that he engages in - Ultimate frisbee, Touch Rugby and his latest interest - muay thai. He also participates in adventure races and coaches on the side as well.

This cheeky fellow insisted that I throw over some controversial questions for him to answer. So I tried and I did.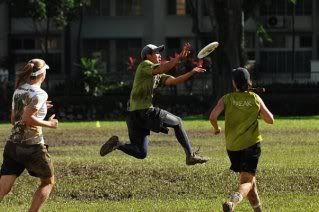 Jumping to save the game with a splendid catch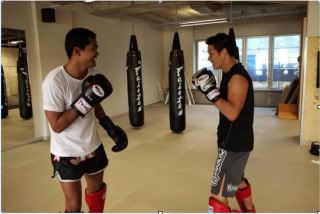 Devon's latest interest - Muay Thai



How old were you, when you started on sports? As a kid, how has sports been a positive influence in your life?

I started playing structured sport at age 5. It was basketball first at the local Chinese Community Club and then entering primary and secondary school, I was exposed to different sports at PE (Physical Education) Classes and that extended to Swimming, Rugby, Softball, Cross Country Running and Gymnastics.

I believe it has given me personal self confidence as well as opened networks socially throughout the world. I can handle pressure with ease and I am able to think logically when facing deadlines at work. The health benefits are obvious as I believe a healthy body leads to a healthy mind and balances all things in my life.

What are the aspects of sports that you enjoy that continue to keep you in the game?

Above and beyond the normal aspects mentioned above, I enjoy the physical and mental challenges that keep me on the go and push me to the edge.

I am a naturally competitive person by nature although that has mellowed over time, the satisfaction of winning never goes away. I also enjoy the steep learning curve when involved with new sports/activities and how I can challenge myself to get better at new activities. It's like a new drug in a different form.

Being part of a team is great as well – you develop on-field and off-field bonds that you just don't get in the work place. Friends for life.

You engage in Touch Football and Ultimate Frisbee which are both team sports. Do you engage in any individual sports? Do you prefer team sports over individual sports? Why so?

I enjoy both team and individual sports equally. They are merely different challenges that enable me to refresh my goals and reinvigorate my mind. I often switch sports throughout the season to keep things from going stale and for physical cross training purposes – to minimize injuries.

What are the aspects of Touch Rugby and Ultimate frisbee that keeps you hooked?

I just like kicking ass! Both are incredibly fast and skillful sports that require intense bursts of energy. From a strategic standpoint there are so many things to do and often in times of battle, only the superior mind will win. The inner chess match between your opponents is key to winning – not only the speed, strength and skill, but the will and emotion to win.

You coach students at NUS in Touch Football but that is just a sideline. What made you decide to become a coach?

Initially, I got into coaching as a volunteer. I enjoyed teaching, guiding and showing others how to play and enjoy the game of touch. As a coach, you look to expand the sport, develop the game and show others how you can derive enjoyment from the sport. Eventually, my reputation grew and I had a very successful reign as a coach and was asked to Coach the NUS Woman's Touch Football and got paid for it.

Recently, you took up Muay Thai and even travelled to Bangkok for classes. What made you decide to travel overseas for a sport and tell us more about the experience.

I have always wanted to learn a violent martial art and Muay Thai was the best option. My brother and I found a gym that taught the art and we signed up for 10 lessons. The rest is history. I have been learning Muay Thai for 10 months now. It is an extremely intense sport - more physical than any sport that I have ever done.

I fell in love with Muay Thai because it is a sport that requires power, yet is graceful in certain aspects and requires strategic thinking in order to beat your opponent. I thought it would be a wonderful experience to learn Muay Thai in the country where it originated from. Hence, I decided to make a trip to Bangkok since it was just a stone's throw away.

I learnt a lot during my trips to Thailand. The biggest lesson learnt was that you can work and enjoy what you are doing. The Thais taught Muay Thai to earn a living but it was not just a job for them - the passion they had for the sport was amazing. Muay Thai not only provides a strong family atmosphere for them, it helps instill good values and discipline.

Amongst all the sports that you participate in, do you have a preferred sport?

I have no one single favorite sport – they are all my 'children'. They keep me fit and at the top of my game. Having said that, although there is no particular preference, I do have individual goals that I set for myself. These goals will in turn determine the amount of time and effort that I spend on each single sport.

Do you think that being sporty makes one more attractive to the opposite sex? Why so? Take for example, yourself, is it a criteria for your partner to be sporty and/or at least appreciate sports?


I think being good at something makes someone attractive to another. It could be sports or it could be cooking. I think sports will make someone physically more attractive to the opposite gender. However, I don't have that as an important criteria for my partner. Personality has to always come first.

If you were trying to encourage someone to take up a sport, what would be the one reason that you would state to encourage them?

I have used many reasons to convince friends to take up sports.

The best one is that it is fun. At the end of the day you can only bring a horse to water. People have priorities and other agendas for the things they do. So, if you are on the sports bandwagon, it will be a great ride. Otherwise, you are obviously on another wagon enjoying your own ride.

Do you believe in the integrity of sports? What are your viewpoints on taking drugs to boost performance? You are a person that loves to win, hates to lose, would you do all it takes to win?

I believe there should be integrity in sports - playing with sportsmanship is important. Above all, competing fairly and respecting the rules, officials, opponents that make up the game is important. Drugs is a form of cheating and I do not condone drugs or any other forms of cheating.

I love to win - it never gets old. I hate to lose - thankfully it doesn't happen often for me. I do everything in my power to win but I would not resort to cheating.

If you were offered a deal, USD$1 million, or whatever amount you wish to have, to deliberately lose so that your opponent team wins. This would also mean that you will be betraying your own team mates, would you accept the offer? What would you do and why?

I had call in sick and sit out of the game. I would not lose even for a billion dollars as I respect the integrity of sports.

Many catch-22 scenarios happen in sports. Let's say that your team rugby jerseys are sponsored by ABC and the logos are displayed on the jerseys. During a tournament, your team wins and the prize includes a slot in a much sought after rugby competition that usually requires several qualifying rounds. Since your team has won this big tournament, you are given a direct entry into the next match. It would be a big prestige for your team to be participating in the competition. However, there is one condition - the sponsor of that competition is a competitor of ABC and requires that you wear rugby jerseys with their logos instead since it is a sponsored entry. They will provide the jerseys and bear the costs. How would your team deal with the situation? As a team leader, what would you do in the best interest of the team?

As the Club's Vice President, I would discuss this with the executive committee to make the best decision for the club.

The process for the Monsoon Touch Football Club charter - the club that I play for, is standard and always takes into consideration, the best interest of the players, club and stakeholders and sponsors. Obviously, our number 1 priority is to play and enjoy the sport. With this in mind, we would run this by the sponsor in question to play in this tournament. Given our good relations with our sponsors it is highly likely that we would be able to compete in this tournament given the conditions.



:::::



Devon's tech blog can be found here and his journal on muay thai here.

Coming up next, meet a fiesty Vietnamese American born girl who runs faster than most guys that I know. :P