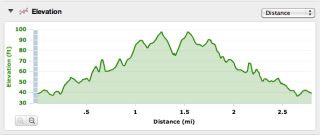 Elevation chart for today - magnified



Like all other normal human beings, there are days where I do find it difficult to pull myself out of bed. I used to be able to run at 6 or 7am but these days, I am so used to sleeping in till late that it is tough to schedule an early morning run.

The alarm was set for 7am with the target of starting my run at 730am - 30 minutes to have breakfast, shower and wake my body up. However, I only landed up heading out at 10am. Well, at least I made it out :) But trust me, I was really reluctant. It didn't help that my glutes were aching from the previous day's Insanity plyo max interval workout. I decided to do a short recovery run which worked out great in the end.

Here are some ideas on ensuring that you make it to your morning run -

::: Go to bed dressed in your running gear. You can even wear your socks to sleep if you like - keeps your feet warm if you are sleeping in an air conditioned room. Why not? :P

::: Arrange a run with a friend or someone. You'll feel bad to bail at the last minute and there's motivation to get up and get out.

::: Aim to do a quality run i.e. it can be a short but good run. For me, it was a recovery run so short was good.

::: Run a route that interests you. In my case, I decided to choose a rolling slopes route because the challenge would keep me going. If you like running by the beach, then East Coast Park for example might be a good choice.

::: Run where you can find many other runners. It is motivating to run and see others running. It keeps you going. For me, I chose a quiet route because I knew that I would want to run further if I saw others running! It was supposed to be my recovery run afterall.

::: Bring some money with you. Promised yourself that you will treat yourself to your favorite ice cream after the run. Run towards that destination and end there. Nothing beats rounding up a good run with a treat right? I had my Mr Bean ice cream this afternoon by the way :)

::: Think of the positive benefits of running versus NOT running. It was getting hot outside and I figured it would be a painful run. But then I remembered what B.T constantly tells me - run and train in the heat so that it will be easier during the actual race. I was rewarded with a cool breeze for most of my run :) Whether it is to lose weight or work off the big meal that you had the night before, just think of the benefits of heading out for a run

::: A nap. Running in the morning can be great because you get it out of the way and have the whole day ahead to do anything that you want. That includes a nice afternoon nap! Running really early has its benefits because when you are done, you can have a nice breakfast and the day has just begun! Then I would head home to nap :P

I am sure you can use one of the above reasons to convince yourself to head out for a run? I hope so :)

Today's statistics -

Type - Recovery run
Time - 00:29:36
Distance - 2.8 mi
Calories - 223
Av. Pace - 10:34 min/mi
Min Elevation - 37 ft
Max Elevation - 98 ft

This week's workout -

18.27 miles ran
x3 Insanity workouts - Abs, Max Interval Plyo, Cardio power

A miss? I didn't attend a single yoga class. Urk.