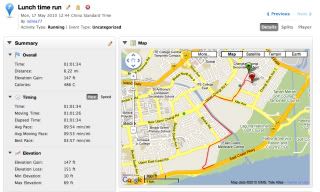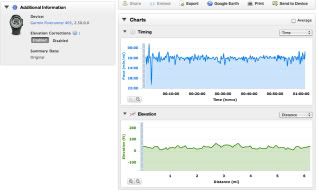 It's been awhile since I did a lunch time run.

I have no idea what got into me but I decided to run during lunch the night before. I had my stuff packed and prepared. Regardless, I am glad that I stuck to my plan and did it. It was slightly brutal since I have not been running in the heat for quite some time.

Above are my statistics from my Garmin. I got it a few months back and am enjoying it so far. I get my run automatically mapped out, my pace, distance (tracked by GPS), elevation (if any) etc etc. The run went okay. It wasn't stellar. I clocked in a mediocre hour for a 10km run but it is okay. I did an average 9:54mile/minute pace. If I can uh sustain that throughout my marathon, I would comfortably achieve my target.

Anyway, the training starts proper in 2 weeks time, I am both nervous and excited about it. It will be intensive and grueling but I will try my very best.

This evening, I did 15 minutes of the Ab ripper. Friends ask why I am pushing myself so hard. The truth is, I actually enjoy it most of the time. It does get painful but I want to put in the best effort that I can for this upcoming marathon.

I think the first marathon is always slightly easier. The only aim is to complete it. For most at least. But the second one is harder. There is more pressure to do better. To try and beat your first timing. I don't know if I will be successful in achieving my target time but at least I know that I have trained hard and tried my best. So I am determined to try my best to keep to the training and do my very best. And leave it to race day to see how I perform.

And I end with a great excerpt from the book that I'm currently reading - Paula, My Story So Far by Paula Radcliffe,

... we only get one life, you should make the most of it - no looking back. Always be true to yourself and treat other people fairly and as you would want to be treated. Enjoy and appreciate it when things go well because you've worked for it. What goes around comes around. Often life doesn't quite work out like that but if you believe it does, it is easier to make sense of it. Of course things still go wrong sometimes, but it's easier to get over these obstacles if you're prepared to learn from them, put the problem behind you and work hard to get back to the good times...