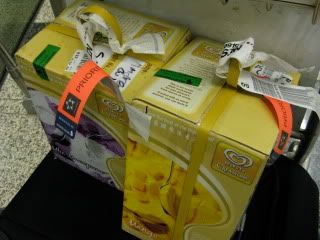 Yam and mango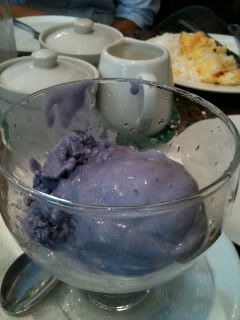 I ate this twice on my trip! mmmm!



I didn't get them this time around - this picture was taken from my last trip. But if you make a trip to Manila, this ice-cream is a must-get. They have several brands - Magnolia, Selecta etc but I vote that Selecta is the best. It is the premium brand of Walls ice cream.

Now, if you're thinking, Oh.. Walls?! It can't be that great?!? That's where you are wrong. This ice cream can only be found in the Philippines. It is made using ingredients from the Philippines and it tastes really different. I've not tasted yam or mango ice cream this good! You can actually taste bits of yam or mango in the respective flavors and it is extremely creamy. It melts really easily and you have to eat it fast!

You can get the 1.9L (I think) tubs of ice cream - it comes packed in a tub of mango and a tub of yam which means a lot of yummy cream! It is packed in dry ice and will last for 24 hours. You can check in the entire box and it will be okay! It is a popular purchase so you can either buy it from any of the guys near the check-in counter or get it after you get through customs. I prefer to get it before I check-in so that I don't have to lug it around.

Crap. I'm now craving for the ice cream :\ I wish I had bought some..