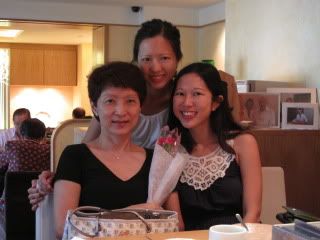 Happy Mudder's Day!



I love Japanese food. Period.

I am mighty glad that my entire family and B.T share the same love as me! The two of us had previously eaten at Tatsuya and suggested that we had Mother's Day lunch there. Everyone (even my Dad who is extremely fussy about the quality of Japanese food) agreed that it was good so we are glad. But OMG. We made some orders without checking the prices and when I checked the details after I got home, we almost fainted.

Overall, we thought that the prices are still relatively decent for the quality that you get. It averaged S$80 per person including drinks, 2 desserts, lunch sets and *ahem, a couple of expensive sushi orders -_-

It's been a really packed weekend since I got back from Manila! I wanted to be a hermit but landed up socializing and spending time with my family! But no complaints really. I didn't do much sports this week but it's okay. Just a run, some ab work and a friggin' hot Vinyasa class after my huge Japanese lunch today *burp. We only had an hour to digest all that food that you saw *double burp. Oh. We went on a movie date today as well so I'm a happy camper :)

Tatsuya Japanese Restaurant
22 Scotts Road
Goodwood Park Hotel
+65 6887 4598



My Sis & (future) BIL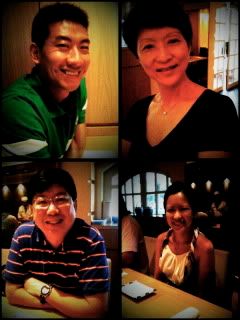 Quad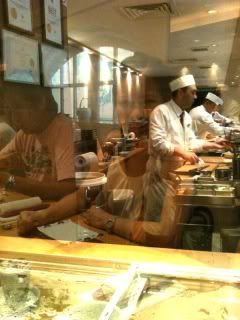 Blend cam (oops! Did it the wrong way around!)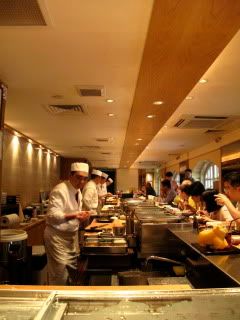 I think sitting at the sushi bar counter is fun and entertaining

Pano gone wrong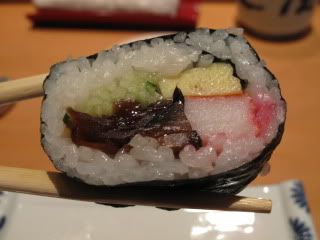 Futomaki (rainbow roll) 8 pieces for S$18



It looks simple but the preserved plum or something that was inside the roll, added a nice twist in flavor to it.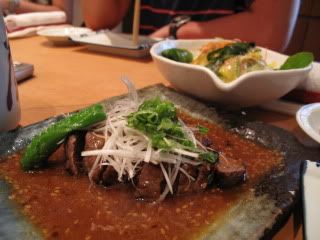 Gyuniku Shoga (beef with salad) salad bowl is behind



I really enjoyed this. Tasted really tender, like beef tongue or cheeks or some soft juicy part. It was partly raw, partly grilled and it came nicely paired with the refreshing salad that had my favorite sesame dressing. This costs S$25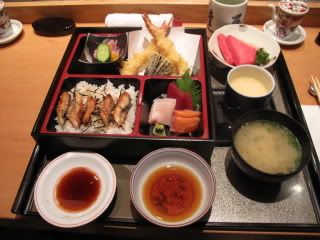 Sashimi unajyu set



It was funny how each couple got the same set! B.T and I got the above, my parents got the sashimi bento set and my sis and BIL got the tempura soba set. The bento sets are really worth it. Mine cost S$30.90 and it was so filling, I couldn't finish up the rice and fruits -_-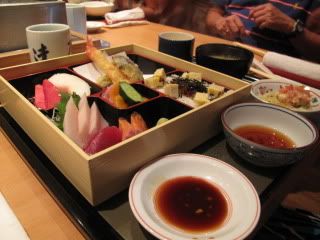 Sashimi Bento Set, S$28.90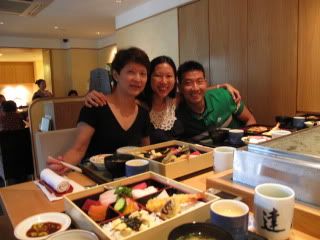 With Mudder and B.T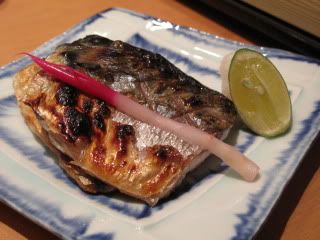 Saba Shioyaki, S$13.80



This was probably my least favorite. Not that it was bad but I'm not too much a fan of Saba fish.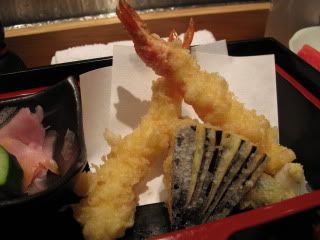 Close up of my tempura - tastes standard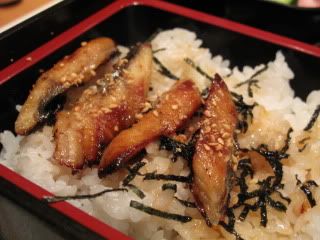 I did like the eel with its slightly charred taste.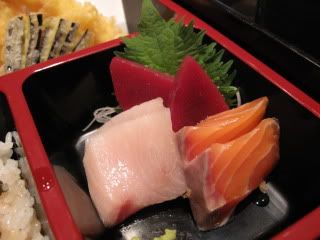 I LOVE sashimi!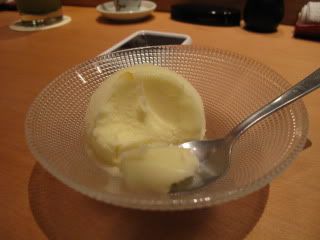 Yuzu sorbet. Really lovely! S$6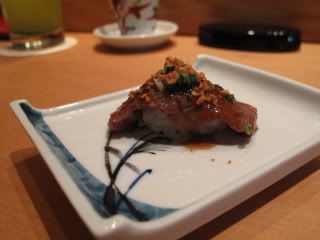 Matsusaka beef



Ok. Deep breath. This tiny sushi, costs... *drumroll S$20 EACH. So each of the boys had it and 3 pieces costs S$60!!!!!!! -_-

But, but, but, they said it was good. Quality beef that melted in your mouth. What the chef did was he seared one side with a blow torch, slapped on the rice with the raw side of the beef facing upwards, seasoned with sea salt and garlic and blowtorched it again.

My sis also ordered a Botan Ebi Sushi which is a similar styled sushi but with prawn instead of beef, it costs S$22 per piece -_- That was another S$44 *double faints. I'm fainting so much because my sis and I footed the bill :P

Verdict? The seared sushi is really good BUT pricey. Be careful when you order it here. The reason why we ordered was because we were sitting at the bar and watching the chef prepare the sushi for other customers and were really enticed by the orders.

My sis also ordered the Hamaguri Osui (clam soup) which came in a tiny bowl and one big clam but that costs S$15.

The Gindara (cod fish), S$23.80 was a good choice too. I am a big fan of cod. I love it because it melts in your mouth. This one had a slightly different taste to it which I can't figure out what it was.

All prices excluding GST and service charges.