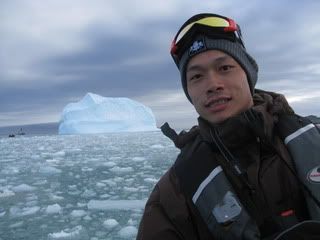 Wei, at an unusual location for a marathon



Wei Chen, 35, is a New York born Physician who is currently residing in New York. Some might have the misconception that doctors lead a very stressful and otherwise boring life. For Wei, it is quite the contrary.

Being a runner myself, it is natural that part of my circle of friends are runners themselves. I know people that have ran marathons in major cities like New York, London, San Francisco, Singapore, Tokyo, Hong Kong, Manila and so on. For many, they not only participate in races in their country of residence, but do take the effort to make a trip overseas for races. It is quite common these days in fact. Wei ran the ING NYC Marathon with us last November. When I asked Wei where his next race was going to be, his reply took me by complete surprise.

The Antarctica Marathon.

That was his response. And it wasn't just to participate in a marathon. This interview is about one ordinary doctor who has taken his passion for running to a different level altogether and I believe, it will be quite an inspiring story for many.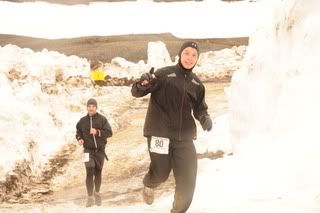 Wei during the race. Check out the thick winter gear that he has to be in!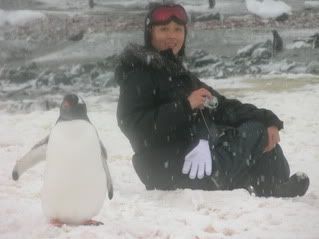 His wife, who ran the half marathon




You earn a living as a doctor. As a side hobby, you have a goal to run a marathon each month. How did you come up with that idea and when did you start on it?

It all started about 2 years ago when a friend of mine first brought up the idea of running a marathon in all 50 states in the United States. Since I love to travel and enjoy the challenges of running a marathon, I thought that was a great idea and decided to combine the two.

Running a marathon each month provided me with a reasonable time frame to reach that goal.

How have you benefited from it? Is there an end goal or date for this monthly marathon project?

Not only has this goal given me a great excuse to exercise and stay fit, it has also given me a great opportunity to explore and experience the country and the world I live in. I hope to do this as long as I find it enjoyable.

Recently, you went on your honeymoon to an unusual location – the Antarctica. One of the goals was to run the Antarctica 2010 marathon! How did you find out about this race and what made you decide to participate in this challenging race?

I noticed the race advertised at a couple of marathon expos and Antarctica always stood out to me as a fantastic location to run a marathon. I wanted to visit all seven continents anyway, so why not do something special along the way! It's Antarctica!!

How did you persuade your wife to visit Antarctica for your honeymoon? Did she participate in the race together with you?

I know Antarctica is not your typical honeymoon destination. As a friend of mine said when I told him of my plans: "Why would you want to go from a cold place to an even colder place on your vacation?!" Lucky for me, my wife shares my joy in traveling and she didn't need much persuasion from me. After all, it is Antarctica and there are penguins over there!

My wife did participate in the half marathon event and to her surprise, finished first among the female participants!

I heard that you will come face to face with icebergs, penguins, seals and whales whilst running the Antarctica marathon. Do share with us your experience for this race.

Well, the experience was not so much the running but more just the opportunity to experience Antarctica itself. It was a privilege to visit such a beautiful, remote, and unspoiled place. It was also special to interact with animals that have no fear of humans.

Antarctica in February (Summer in Southern Hemisphere) is actually not much colder than New York! It's hard to describe Antarctica because it is really like nothing I have experienced. I'd definitely recommend a visit to Antarctica to anyone who enjoys the outdoors and is not afraid of the cold!

For someone that has been running for 3 years, what have you learnt from running?

I have come to learn to use running as a source of stress relief as well as a tool to learn to focus, and build self-discipline and self-confidence.

Do you train with a running club? What made you decide to join a running club and how have you benefited from it?

I joined a running club called Powered By Dim Sum here in New York and members exchange advice and support on running among other things. We also share a taste for Dim Sum after races!

When you have kids in future, do you see yourself continuing with sports and running? How do you intend to set aside time for running?

I definitely plan to continue sports and running after kids, but will most likely need to compromise on the amount of time I spend running.

From a doctor's point of view, what advice would you give to someone who plans to start out on sports? Some start out on a sport but give up shortly, how does one stay motivated to continue integrating sports as part of their lifestyles?

I think a good way to stay engaged in running and other sports is to set realistic and achievable goals. Having success makes it easier to motivate yourself to push harder. For some people it helps to train with friends who share similar interests. When you make plans to workout with a friend, you're less likely to back out or slack off because you don't want to let the other person down.

In the hectic modern society that we currently live in, many find it difficult to fork out time to engage in sports due to work or family commitments. Any suggestions on how to enjoy a more balanced and healthy lifestyle?

Try to incorporate exercise into other events in your life. Get other members of your family and friends to become more active so you can spend time together while being active at the same time. Business-related travel could be an opportunity to participate in local active events. Go for a run before work in the morning by not staying up too late at night. These are not easy but certainly possible if you put in the effort.



::::::



Next up, a Kiwi dude who talks about Muay Thai which is currently one of the hottest sporting activities here in Singapore.