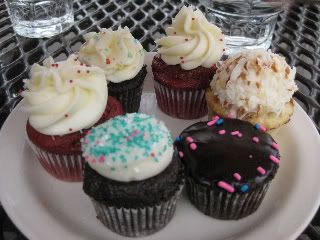 Red velvet, chocolate chocolate, vanilla with lemon...



I posted about this before. But it is something worth re-posting :P

I have been craving for cupcakes since I tried the Magnolia cupcakes. It was one of the reasons why I wanted to fly to NYC after my meetings! The Magnolia cupcakes was beyond describable. Even B.T liked it a lot and I guess that says a lot for the quality of the cupcakes since guys aren't really into it. Since I couldn't have the Magnolia's, I insisted on having a few bites of the next best - Saint cupcakes.

I sacrificed a run at Leif Erickson - which I kinda regret because I miss running in those trails! But for that sugary craving, it was quite worth it.

TS and I shared 6 minature cupcakes. We sat outside under the frilly pink umbrella and savored every sugary crumb. I have to say that my favorite flavor is the red velvet because it's my favorite from Magnolia, Saint cupcakes and in another upcoming cupcake post, one from Vancouver :P We were on a cupcake hunt! Back home, the Limonato from Toast is still the preferred choice for me though.

Saint Cupcakes
407 NW 17th Ave Flanders
Portland
Oregon
+1 (503) 916 9835

P.S Is anyone using a client for Mac? I'm currently using iJournal. I did prefer Semagic which was the client that I used for my PC as I was able to preview the post.