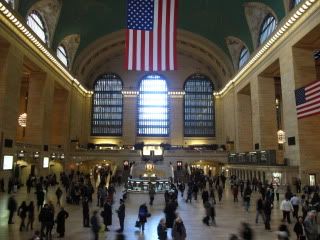 My favorite part of the station



I am almost coming to an end of my NYC adventures, I'm sorry I took weeks to share! There are still a few more to come through. On my list are about 16+ entries on NYC - I am surprised that I have so much to share! Hopefully, this will serve as a record for me and for all who are first time visitors to NYC.

Most of my travel companions for this trip had visited NYC at least once. Hence, I was the only one that was enthusiastic about covering the tourisy spots. B.T's main agenda was to meet up and catch up with all his NYC friends and to eat at his favorite spots. He was kind enough to bring me around to the list of places that I wanted to visit.

There are always abundant things to see in each city. I try to mix it up. Local food, historical sites, museums, iconic places and shopping. For NYC, I did have a pretty long list.

The Grand Central Station is a place that I have heard about. To some, it is just a train station but it has a lot of history behind it. It has been around for years, since 1913, many famous movies like Armageddon, I Am Legend, MIB I & II have been filmed there. It is massive complete with restaurants and shops but more importantly, thousands and thousands of people transit through this station daily.

The architecture of the building is kept the way it has always been, it feels different standing inside the station. When I think of our current modern stations, I think of stations like our MRT stations in Singapore, the MTR in Hong Kong, the Tokyo subway, the NY subway, it is completely different. Either squeaky clean or gritty and old school ghetto. We stood at the steps overlooking the concourse watching as the people hurried by, rushing for their trains, tourists snapping away with their digital cameras or fancy SLRs. It was a busy sight. Everyone walks fast or is in some hurry, you feel very alive especially if you stand right in the centre of it all.

We stayed in the station for a while and I enjoyed it very much. And after we finally stepped out into 42nd Street, I felt like I had taken a walk through history and a whole different era.

P.S A few more on Hong Kong will be coming up soon as well and then over the next few weeks, I will share more on my upcoming (and final) trip for the year :)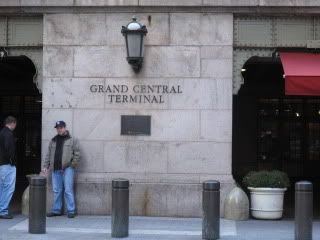 I've heard so much about - how iconic it was and had to visit it!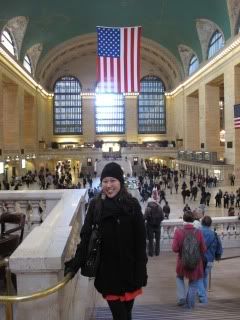 It's amazing the amount of foot traffic that passes through the station hourly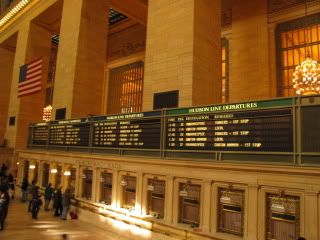 The busy train schedules
Everything about it is so old school