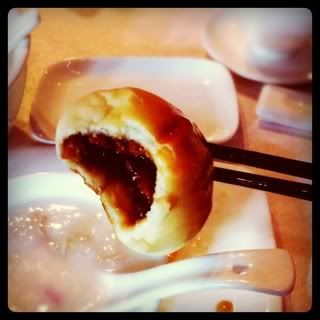 The other day, I ate at Imperial Treasure (one of my favorite dim sum places) and discovered two items that I have
never
had before! Yes. Never. I don't know why but omg I can't believe what I have been missing out on!
The baked char siew bun has to be the best char siew bun ever. Succulent flavorful (sinful) chunks of meat inside a glazed baked bun that is so friggin' delicious, I had to make a conscious effort to just stop at one because I know that ain't too good for my arteries. The next item was the custard bun which was beyond description. I have had custard buns before but none came close to the one at Imperial Treasure. Look at that bright yellow eggy mixture that was oozing out of the skin. It was buttery, very eggy, sweet, warm and heavenly.
The next time I visit Imperial Treasure, those two items are going to be the first that I'll order.
Imperial Treasure
75 Airport Boulevard
#01-02 Crowne Plaza Hotel (next to Changi Airport T3)
Singapore
+(65) 6822 8228

There are outlets at Ion, Ngee Ann City, Great World City and a few more others I believe
♥ Help Japan recover