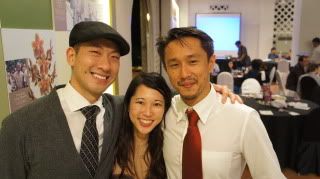 With the groom
I think it was 5 or 6 years ago when I first met C. We met through the triathlon group that I used to train with and even after I stopped, we still kept in touch. Our typical meet up is over lunch during the weekday - usually when he gets a craving for the Bedok camp 'cheng tng' :P He'll swing by my office to pick me up and we'll catch up while we drive over, then over lunch and back.
More than a year ago, he told me secretly that he was planning to propose to his then-girlfriend T. I was completely excited for him though I've never met her but he always spoke to fondly of her. He asked me for proposal ideas and we were discussing it for awhile. Then one fine day, he text to say that
he did it!
And she said
yes
of course. I was so happy for him. The day I received his wedding invite, I was excited and looking forward to attending it. It does make a difference, attending a wedding of someone whom you truly care about.
The wedding happened over the weekend. It was great. It was very personal and small unlike the typical Chinese wedding dinners that are huge and you don't know anyone. I had a lovely time catching up with friends, food was unique and fantastic and the lychee martini cake (from Pine Garden I believe) was absolutely delightful!
I do love and enjoy attending weddings, when they are the ones of close friends. It is heartwarming to share in the joy and to give your sincere blessings in person. And to the lovely couple, congrats once again :)
♥ Help Japan recover
(
Collapse
)