UPDATED

Added a link to the Japan Red Cross below, a link to verify if the charity you opt is 'safe' and a few more information.


Many have been talking and sharing videos and news on the Japan tragedy which I'm sure, everyone is now familiar with. I do believe that if possible, we could consider helping in whatever way possible. Perhaps to me, the simplest way is to offer a donation.
Inspired by a few friends who started making their own donations and efforts to help, I decided to
do
something myself too. I didn't just want to empathize, I wanted to help.
I have chosen
3
4 different ways to contribute -

American Red Cross
. My donation will support their disaster relief efforts to help those affected by the earthquake in Japan and tsunami throughout the Pacific.
UPDATED
I believe, a U.S credit card is required to make a donation to the American Red Cross. An alternative is the
Japanese Red Cross
in Japan which actually might be a better idea as it aid goes through quickly (I think).
Amount donated = USD$15/SGD$19.06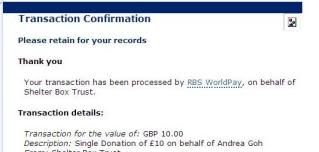 Shelter Box
. ShelterBox provides emergency shelter and relief supplies for the victims affected by the disaster.
Amount donated = £10/SGD$20.52

Sparklethots
which is owned by my stay-at-home-mom friend, Ruth, has decided to donate all proceeds of sales of a Ribbons ring (less Paypal charges and shipping costs) to the
Singapore Salvation Army
Red Cross who will in turn be sending out the donations to the Japan disaster.
Some might question, why not just donate the entire amount directly to another cause? I am doing this because I would like to support my friend in her efforts, and also, this ring will serve as a gentle reminder to me to remember the fragility of life and not to take things for granted.
Updated
- I believe there are only 2 rings left if you wish to donate via this method!!
Updated Mar 16 11:31am
- All the rings for this cause has been sold out. Please explore other methods to donate.
Amount donated = SGD39
This morning, I added a fourth donation which is very personal to me. One of my closest gf just shared with me that her brother lives/was living in Sendai and though they are safe, have lost everything. They are trying to build their house but there is no electricity, water, food and materials so it's tough. I've wired over SGD$25 to her to send back to her brother and I hope the small amount wil go a long way.
UPDATED
My mom has never met my friend before but always hear me speak well of her and she's donated SGD$100 to her brother as well! :)
Total amount donated for the Japan disaster through 4 sources =
SGD$78.58
SGD$103.58
B.T has joined in as well and he has donated SGD$100 via his company as they will match dollar for dollar!!
For those living in the States,
Charity Navigator
will help you to establish if the charity that you are planning to donate to is reliable.
Please take some time out of your busy schedule to consider making a donation. No matter how small it might be, it would go a long way. For those that have already done so because of this post, thank you very much.
Thanks for reading this.