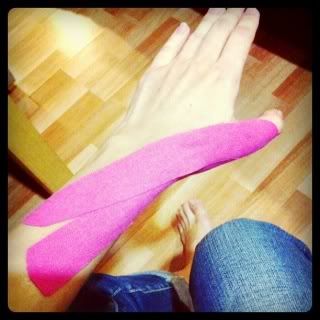 My orthopedic recommended a physio centre at Mt E itself but I decided to go to another physiotherapist that came highly recommended from friends. It costs more frankly speaking, but I don't want to meddle around when it comes to health related issues. I'd rather pay for quality professional services anytime.
Gino of
Sports Solutions
is possibly the best physiotherapist that I've encountered and I've seen a couple so far. I did go with slight apprehension, unsure of whether I made the right choice but am glad to say that it was indeed, a damn good decision.
I've suffered a few sports injuries (not overly major) over the last couple of years. If there is anything that I noticed, doctors tend to prefer to treat the immediate issue/pain. In this current case, it was to put my wrist into a splint, take anti-inflammatories, go for physio and see how it pans out. I like the fact that Gino wanted to establish the root of the problem and he did figure it out after a one hour consultation.
I was sent home with a series of exercises to do to stretch out my tight shoulder and neck area which attributed to the wrist injury, physio tape stretched and stuck onto my wrist (no more splint whoohoo) and instructed to see him a week later. I did all my exercises diligently, stopped the meds as advised and you know what, the wrist stopped hurting, it was still strained slightly but I could feel the difference after the physio treatment and exercises. Meanwhile, Gino continued to monitor by sms-ing me to check on how I was doing and that was pretty impressive. I could email or text him whenever I had questions and I felt that it wasn't just a one off consultation where that 1 hour was all you got. I was impressed when Sports Solution mailed a personally written note to thank me for choosing them.
If you think this is a new physio centre trying to get business, you are quite wrong. Gino is pretty booked up and he has quite an impressive portfolio of clients including some really VVVVIP clients which let's say, if I were to mention any names, I would guarantee anyone living here would know who I'm talking about :P So he doesn't exactly need to promote his business because he has a good reputation but I think he's a physio that genuinely cares and is willing to take the effort to explain, to follow up, to provide a solution that works in the longer term. The fact that he was an ex national triathlete, he truly understands the issues people that engage in sporting activities like myself, experience.
I went for my follow up this evening. There was a marked improvement in my mobility when he did the same series of tests. I wasn't yelping as much. He noticed my lower back was a bit tight and cracked it up nicely :) I felt immediate relief and loads lighter and flexible. I am pleased to note that my wrist is recovering nicely and since I am now correcting the main cause i.e. my back and shoulders, the wrist issue should resolve soon. I also now know why I do get headaches off and on and it's all due to my tight neck area.
I do have to make some minor changes in the way I do things for example, my posture at the desk, doing regular exercises to stretch out the muscles and reduce tension. I'm trying to carry my handbag in my hand instead of slinging it over my shoulder all the time as well.
And nope I wasn't paid to write about him or his clinic but I just wanted to share this good physio that I've found!
Sports Solution
108 Amoy Street
Singapore 069928
+ (65) 6223 6078