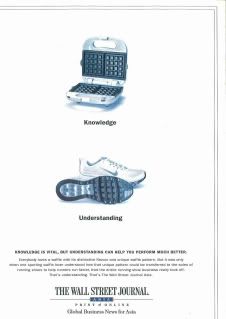 This is one of my favorite ads related to Nike while spring-cleaning my files. The other one is the Nike ad itself that states,
There is no finishing line.
The other day during the SEA meetings, long service awards were given out to the staff. The average tenure here (locally) is about 5 years. It is common to meet a colleague who has worked for 5 years or more and ten years is actually quite common. There were about eight 5 year awards that were given out, five or so 10 year awards, two 15 year awards and one 20 year award. Not bad for a company that is only 33 years old (if you don't count the time where it started as Blue Ribbon Sports) and locally, about 20+ years. The person who was awarded with the 25 years of service award was one of the first employee. Just a testament to how much she loves the company, she lives far on the opposite side of Singapore and spends an average of 2 hours commuting (by car) daily.
I'm hitting my 5 year mark next year. Time flies. And all I can say is that my time so far has been spectacular. I've been working for MNCs for almost a decade and I would still say that this has been my best so far :) The inspiring moments here at the company as plentiful. We watch our marketing videos and I feel so proud, I get a lump in my throat.
Last year, one of my team mates won a local Maxim award. Nike has 11 maxims. You win a maxim if you demonstrate any of the maxims and have to be recommended by many. It is a big honor and prestige and goes right onto your resume and report card. Our whole team was so proud when he won it. This year, another of our team mate won a
global
maxim. Now, a global maxim is a lot tougher to win. You get nominated by the GM, directors etc etc and compete with others globally. There is only one winner for each maxim. He won it. Freaking amazing. His award has our CEO's and President of Brand's signatures on it. It's a double honor. I almost teared watching him go up to receive it. You see, that's the quality of the amazing people that I work with at work. How do you not get inspired?
Back to the image and ad. The Wall Street Journal used it in their ad. The waffle story. If you don't already know, one of our founders, Bill Bowerman, created the first running waffle sole. He was experimenting with different patterns of soles to create a good running outsole and finally got it when he pour urethane into his wife's waffle iron and created the perfect waffle sole. It's one of my favorite stories and being a runner, I totally relate to it. I love how it inspired TWSJ to use it.
If you can't read the text on the image, this is what it says -
Knowledge is vital. But understanding can help you perform much better.

Everybody loves a waffle with its distinctive flavor and unique waffle pattern. But it was only when one sporting waffle lover understood how that unique pattern could be transferred to the soles of running shoes to help runners run faster, that the entire running shoe business really took off. That's understanding. That's the Wall Street Journal Asia.
The views expressed on this website/weblog are mine alone and do not necessarily reflect the views of my employer.