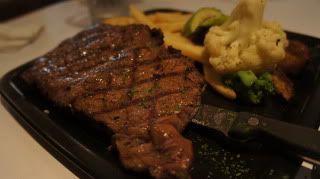 It's been almost a month since I returned from Hong Kong and I'm still writing about the trip but I guess I just have been too busy with personal stuff to write (and half lazy :P). But anyway, my aim is to bang out a few more entries on Hong Kong over this extremely long weekend (7 days for me whoohoo!) and clear it before my next trip!
On this trip, we did check out quite a number of 'new places' even new to B.T who used to live in Hong Kong. Our hosts had quite a bit of an expensive taste in food so we landed up spending more than expected. He told us that this place way over at Tseung Kwang O was a must-go and worth the half an hour drive. The food was not bad albeit totally generous in servings and us having to doggy bag a fair amount of it but it still isn't the cheapest averaging about HKD$250 per person.
Lardos Steak house is recommended by Lonely Planet as the #1 of 5 steakhouses in Hong Kong and #512 of 981 things to do in Hong Kong. We may not totally agree but I guess most people might. The location is remote and it's not a typical steakhouse setting. It's a very simple set-up, tables positioned closely to one another as the place is modest in size. It does get packed so reservations are recommended.
Popular amongst the expats, it is owned by a Danish expat himself (Henry Theil) who used to be a chef for major hotels. The highly recommended dishes are naturally the steaks and they do offer a selection of Australian black angus, wagyu and American beef of various cuts. Apparently, Lardos supplies most of the major 5-star hotels with his steak so the main draw is that you enjoy good cuts of steak at much lower prices than elsewhere (minus the fine dining environment).
B.T went for the steak and as I wasn't in the mood to gobble down a huge slab of meat, I decided to opt for the fish instead. Lesson learnt - always goes for what the restaurant is best known for! The meat was not bad but you do need a big appetite and as usual, we over ordered on the sides which were really good by the way. Crab cakes are a must-order, the foie gras was good quality as well and so was the creamed spinach. But it was all really rich so by the time the mains arrived, we were more than half stuffed with food!
I'm not sure if I would bother to commute all the way out for the steak once again, but if you are around the area, it's something worth considering.
Lardos Steak House
G/F 4B Hang Hau Village
Tseung Kwang O
Hong Kong
+ (852) 2719 8168

Drive or take the MTR to Hang Hau (exit B)
Opens Mon- Fri, 12-3pm, 6pm-1030am
Sat & Sun - 12-1030pm


(
Collapse
)