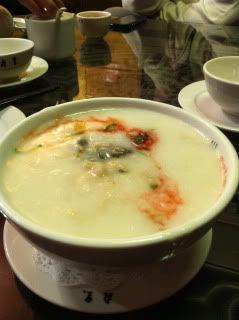 By the end of the two weeks, we were both frankly quite sick of eating dim sum and noodles and were craving for comfort food. Congee sounded like a good idea so we drove over to Happy Valley and picked whatever was available. We landed up at King's Palace Congee and no guesses what we ordered.
My usual order is century egg with either fish or lean pork. So far, my favorite congee is the one from Crystal Jade and this one wasn't far off either. The dough fritters rice rolls were yummy too and we were duly stuffed at the end of it.
Price wise, it wasn't the cheapest as it averaged SGD$30 per person. Would I go again? I wouldn't mind! Where else in Singapore serves good congee?
King's Palace Congee & Noodle Bar
G/F 22 Sing Woo Road
Happy Valley
Hong Kong
+ (852) 2838 4444