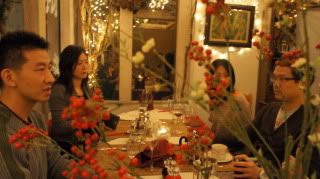 For the numerous visits to Hong Kong (it used to be 8 times a year over to TST for work), I never knew about the 'private kitchen' concept that grew very popular several years back and died down a little. It still remains to be quite popular but unless you know about it, you won't quite be able to find it. The whole idea of a private kitchen is that you dine in someone's private home (well a very large space but not as large as say a restaurant) and for certain places, you can't select what to order and it's all based on what the chef cooks for the day).
We had a few on our list that were recommended by the SilverKris magazine and decided on Le Marrion. We made reservations a month or so before leaving for our trip as private kitchens have limited seating and the popular ones get taken up fast. We landed up disappointed when we called a few days before to discover that Le Marrion had lost our reservations and were fully booked till the end of the month! How on earth can a restaurant
lose
your reservations.. Anyway, we just went on to the next on the list and hoped that slots were still available. Thankfully, Le Blanc had space for us 6 and the dinner turned out beautifully in the end.
Le Blanc is a French private kitchen nestled in busy Wan Chai at some building which you would never imagine housing such a homely restaurant. The ambience is unique and cozy with a lot of home touches, candles and as it was nearing Christmas, it was all decked out in Christmas decorations. Each table was separated with a large hanging white canvas which made the dining experience more personal and private and I actually liked that. Each area was slightly decked out differently so it was a bit of a mis-matched of different layouts, furnishing and decorations all happening at the same time in different corners of the restaurant.
The menu is changed every now and then and the selection is quite varied and in fact, we were all spoilt for choice and took longer than expected to decide on our courses. A unique ruling of Le Blanc is that you are encouraged to bring your own alcohol (no corkage charge). And if you don't have any, you can select from their selection of wines, which we did and they serve some good wine.
I ordered the escargots which were good - buttery rich and smooth and not overdone, while B.T had the foie gras which was superbly decadent! My main was the oven-baked duck leg that was served with a simple vinaigrette salad. The leg was HUGE but cooked just right with herbs and copious amount of duck fat (evident from the thick layers of fat underneath the skin). The meat fell away from the bone easily and was tender and tasty. I enjoyed it very much though it was a rather rich main to enjoy all on my own!
I was amazed that we all still had space for dessert but as someone mentioned, the stomach for dessert is always a different stomach so there
is
always space for it! We shared a strawberry romanoff (no idea what it was but apparently, it's named after some famous chef) which is made up of strawberries (duh), sugar, grand marnier, orange zest and juice and whipped cream, and a chocolate terrine. The others had the apple pie but it was said to be just so-so.
Overall, it was a great dining experience and I would recommend to those visiting Hong Kong to try out at least one private kitchen. Expect to spend between HKD300-500 per person but it's quite worth it!
Le Blanc
6/F 83 Wan Chai Road
Wan Chai
Hong Kong
+ (852) 3428 5824
(
Collapse
)