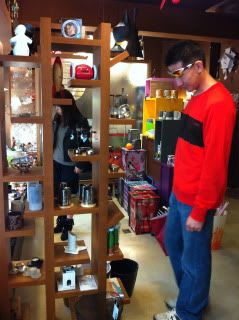 I used to enjoy browsing lifestyle/home shops like G.O.D but it was merely browsing with no purchasing. This trip, we landed up spending a considerable amount of time at
Homeless
. In fact, we checked out 4 of the outlets which was a good thing since each outlet offers something slightly different.
Homeless has a very unique household decorative and functional items offering that are acquired from all the world. I wouldn't say it's the cheapest, but you are paying for something different. I wanted to buy up the entire shop but living in a small space, you need to be really prudent and certain of what you purchase.
The joy of decorating a home space is finding pieces from various places and putting them together. The Studio was designed by B.T and myself - we chose all the furnishing, decor, furniture, tiles etc. It was a laborious process but very fulfilling when you see the result. B.T left me to do the final touches and decorating portion and we even debated over a few pieces at times. Mostly, we eventually went with my choice and pleased to say, after it was installed, he was very satisfied.
There were many beautiful pieces at Homeless but I was very focused in what I needed and wanted. I got distracted a few times and B.T had to tell me that we didn't need it and thankfully, we got exactly what we wanted with nothing that landed up redundant.
Homeless
Central Flagship
29 Gough Street
Central
Hong Kong
+(852) 2581 1880

Causeway Bay Store
1/F 17 Yun Ping Road
Causeway Bay
Hong Kong
+(852) 2890 8789

Tsim Sha Tsui Flagship
8/F The One
No.100 Nathan Road
Tsim Sha Tsui
+ (852) 2997 8192

Tsim Sha Tsui Store
Xplus
LCX Level 3
Ocean Terminal
Tsim Sha Tsui
+ (852) 2780 1138

(
Collapse
)