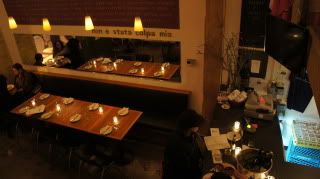 Portland seems to have quite a few Italian restaurants. Good Italian restaurants. Italian food is mostly about pizzas and pastas but it's not just that. Good pastas are done just right, al dante where required and sauces with the perfect amount of cream or tomato chunks.
Cafe Allora
was recommended to us and though the rest didn't quite fancy this cafe, I was the outlier that did.
Sometimes, it's not just about good food - this place wasn't bad in my opinion, it's also about the ambience and service which Cafe Allora had both, thumbs up. The food wouldn't be rated five star perhaps but more towards home-styled cooking with fresh ingredients. It's comfort food. It warms the heart, may not give you that absolute 'wow' factor but it fills the tummy nonetheless and isn't all that bad. And I'd dare say, that this kind of food, will be best on a rainy day :)
P.S I apologize for the poorly taken food photos. I should start using my external flash! It's just a bit of a hassle to screw it on.
Cafe Allora
504 Northwest 9th Avenue
Portland
OR 97209
+1 (503) 445 4612
(
Collapse
)