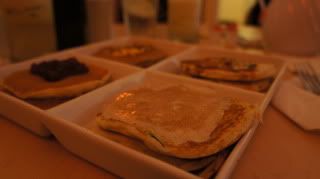 Fluffy flavorful pancakes!
I love how you randomly walk into a cafe and food is great and ambience warm and inviting. His brother used Yelp to suss out some recommendations and we weren't too fussy as we were all hungry (again).
The
Orange Contemporary brunch with a peel
has quite a few brunches all over Chicago. It specializes in pancakes and a wide range of juice selections. You can literally mix up whatever you want and the waiter will advise whether that juice selection is going to work out or taste like crap. I immediately went for the pancakes and it was utterly satisfying though terribly large in servings and the leftovers became my breakfast for the following day.
As mentioned, there were some places that I wanted to check out but didn't have time to so here are more recommendations and for my future reference too!
Frontera Grill for Mexican food by celebrity chef Rick Bayless
Alinea for molecular gastronomy
POPS for Chanmpagne or Andy's jazz club for jazz lounges
Second City comedy shows
SMith and Wallensky for steak
Sepia or Naha for Contemporary American food
Kiki's for French food
Table fifty-two for contemporary food (owned by chef of Art and Soul in D.C who used to be Oprah's chef)
Chicago premium outlet or Gurnee Mills for outlet shopping
BIN 36 for wine and cheese
Glit bar in river North
Girl & the Goat restaurant - 809 West Randolph Street
Now you know why I
need
to make another trip back to Chicago?! :P And of course, to see our lovely friends again :)
Orange Contemporary brunch with a peel
Orange River North
738 North Clark Street
Chicago
IL 60654

+1 (312) 202 0600
(
Collapse
)