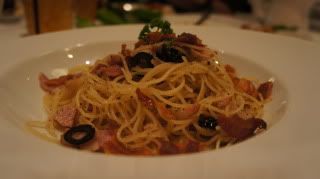 Aglio Olio - turned out well and I finished it
I remember quite distinctly that I used to like Greyhound Cafe and would usually land up there for a meal whilst visiting in Bangkok. I made two trips (not intentionally) to Greyhound - first was disappointing, the second not bad.
It's hard to find a chain of restaurants that are consistent in all outlets. There will usually be some that serve better food than the others and I guess it all boils down to the chef. We visited the outlet at Siam Center and it was overall plain bad. The soup was way too salty, the scallops didn't taste very fresh and the fish was overcooked. I'm not posting any pictures as it's not worth it.
At another outlet, it was way better. Everyone seemed to enjoy the food and I was quite satisfied with mine. However, I don't think that I'll crave for Greyhound food anytime soon unless the standards pick up. I just wish that when places get popular, the food standards don't drop which typically happens here.
( Collapse )
Posted via LiveJournal.app.