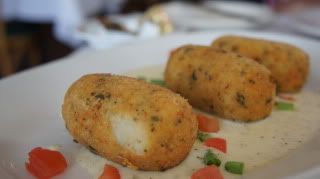 Potato croquettes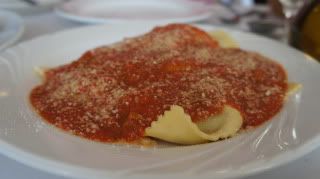 Meat ravioli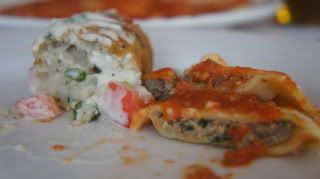 I love finding pockets of yummy goodness in food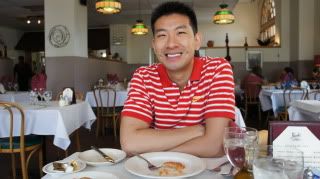 We were around the Hyde Park area to visit a place of interest and it was nearing noon so we decided that it'll be best if we grabbed a bite. We didn't have many options to choose from and well, actually, I think we only had two. So we strolled into
a cozy looking Italian restaurant that went by the name of Piccolo Mondo Ristorante
and prayed that food served would taste decent.
There was nothing fancy about the restaurant except that the view outside was rather pretty. Simple tables and chairs with clean white tablecloths and traditional Italian fare offered on the menus. We weren't exactly starving so we settled for a serving of ravioli stuffed with meat and the potato croquettes that were stuffed with cheese. Service is brisk though the waiter seemed slightly sullen, but it wasn't anything unbearable.
The potato croquette turned out well and I think good croquettes are those where the potatoes are mashed till smooth with butter and milk or cream. The herb and cheese added some saltiness to an otherwise bland appetizer. I personally thought that the croquette was better than the meat ravioli which wasn't bad, but nothing overly fantastic.
It's been quite awhile since I had a good meal of Italian pasta. Hmm. Perhaps I should troop down to Pasta Brava sometime soon.
Piccolo Mondo Restaurant
1642 E.56th Street
Hyde Park
Chicago
IL 60637
+1 (773) 643 1106