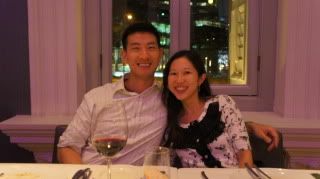 We had a simple birthday celebration for the boy and he was all smiles as his brother was in town and we enjoyed dinner with him and two close friends. We all decided on
Novus
as Chef Stefan who did the espuma and dehydration demonstration at ToTT previously is the main chef here. None of us had dined at Novus before so it was a new experience for all.
Novus does a little of molecular gastronomy which really seems to be the new up and coming trend in cuisine. It was nothing like Moto where it was totally full of surprises and unexpected presentations. Instead, Novus uses a lot of espuma techniques i.e. a fair amount of food comes out in the form of foam and some dehydration methods or sous vide cooking style. Taste wise, some were really good but others fair. The foie gras parfait for example was a popular favorite amongst us five whilst others like the soup and honey milk dessert was rated fair.
Perhaps it's just a Singapore culture that service is never really top notch, we did expect a little better service, it wasn't bad but it wasn't worth mentioning either. We did like the surprise take-away gift of a mini cupcake/muffin for each of us but other than that, the food came out longer than expected (we were the only diners except for another table or two). Overall, for the average price of S$90 per person including wine and we had some discounts, it wasn't too bad and I would recommend it but not rave about it for days like I did for Moto and we still do by the way :P
As for B.T, he was just more than happy to spend a quiet birthday amidst the sheer madness of the renovations. I still owe him a birthday gift and he is leaning towards a Tempurpedic body pillow *groan. Happy birthday once again smelly and to many happy days ahead.
Novus Restaurant
National Museum
93 Stamford Road
Singapore 178897
+(65) 6336 8770


(
Collapse
)