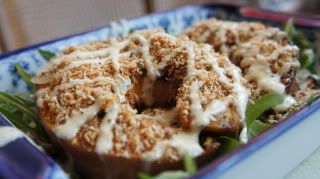 Pumpkin salad
My social life this year has been faring poorly. The training for the marathon took up all of my available free time and it left me mostly exhausted. Then, it was followed by the start of the renovations which was energy zapping. I try to meet up with friends every now and then and sadly enough, I land up having to cancel on a few which is really bad. But I try my best to make time and make the best of it.
I like spending one on one time with a friend each time wherever possible. It takes a lot more effort but I think it's totally worth it. Big group gatherings somehow don't quite cut the deal for me. It's fun but I can't really chat and catch up proper with the person.
Late lunch with C some Sunday ago was great. The weather was a bit of a damper but it didn't kill our spirits and we had a lovely time enjoying truffle fries, salty fish and gingery apple crumble. And loads of good natters of course. And oh. It's wonderful being with a friend who loves taking photos and won't think that I'm mad trying to get a good angle of the tin of fries. :P
It's not a really good idea to write about truffle fries at midnight. I'm feeling peckish and thinking of truffle fries! Argh!
(
Collapse
)