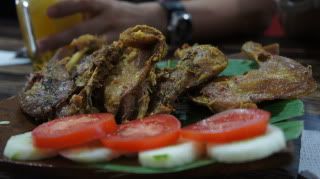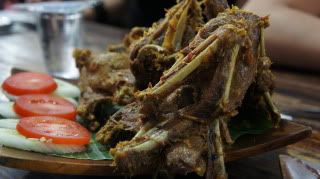 Bebek goreng aka fried duck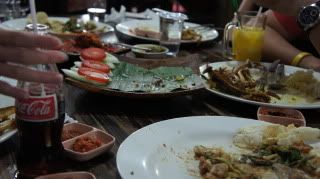 All cleaned up
I recently made a trip to Jakarta for work and it was kinda nice re-visiting since the last trip that I made was eons ago!
The one dish that everyone raves about is bebek goreng - fried duck. I have never tried it before and was all game to do so. You won't find this at high end malls and it's usually available at the smaller restaurants by the roads. Our Indonesian co-workers told us that bebek goreng is like the chilli crab in Singapore - all that visit have to try it. Naturally, the locals get quite sick of eating it :P
Indonesian food though extremely tasty, is like Pinoy food. It's mostly deep fried with a lot of seasoning and it is rather rich and unhealthy. I sampled my first taste of bebek goreng and it tastes like the fried chicken wings that are sold at the Malay food stalls in the school canteens! Do you remember those? It's fried in some sort of yellowish spice and it has a distinctive taste and aroma to it - fellow Singaporeans will understand if you attended a local school during your primary to secondary school years! The bebek goreng meat is just a tad 'tougher' but the taste was simply.. nostalgic.
Other dishes that we ordered included gado gado (quite different from the version here and it tastes more like 'rojak' with a strong peanut flavor), stir fried veggies and tempeh (fried tau kwa). I don't deny that the bebek goreng was quite a treat and the next time I am back in Jakarta, I'll definitely have it again!
Pondok Suryo
JL Suryo No.16 Senopati
+62 21739 3358