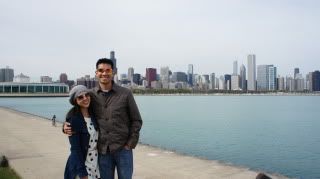 Us and the view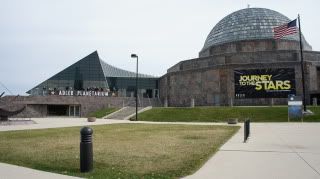 Just 1.5 hours in here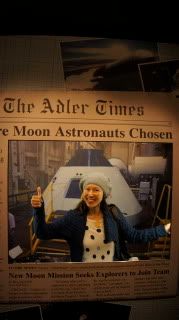 And I got a silly picture taken
We mis-calculated when we thought that we would have loads of time in Chicago - more than enough to sightsee, eat and shop. However, we were quite wrong.
For our virgin trip to Chicago, we had a lot of new friends to meet up with and it was actually nice to relax around with them. We landed up rushing through some of our sightseeing but we didn't really mind in the end. As mentioned earlier, we personally felt that there was more to see in NYC but greater food choices in Chicago.
We got the
Chicago CityPASS
which turned out to be a good deal. It gave us access to 5 of the key attractions in Chicago (Shedd Aquarium, The Field Museum (our least favorite and we could have skipped this), Adler Planetarium, Museum of Science and Industry and the John Hancock Observatory or the Sky Deck). We also got the CTA pass which allowed us unlimited rides on the trains and buses for the specified number of purchased days - 3 in our case. The Adler Planetarium was a place that we wished we had more time in but we had an appointment so we landed up rushing through and rushing off to catch the bus (which can take up to 20 minutes to arrive!)
The view is lovely and on a clear day, you will get a really good view of Chicago. The Planetarium is for those that love the science and secrets behind the planets, sky and stars and they screen some really good films. We managed to catch one which took up a good deal of our precious time allocated for the Planetarium so we barely saw much of it and it was a real pity.
Adler Planetarium
1300 South Lake Shore Drive
Chicago
IL 60605
+1 (312) 322 7827