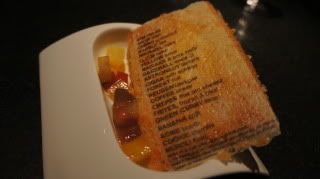 The menu which is all edible
When I asked for recommendations on what to do and eat in Chicago, I had many more suggestions for food rather than sights. I was wondering why until I was in Chicago itself and realized that it is indeed, a food mecca.
We had so many places to check out that it was impossible to try all of it (which means a trip back to Chi-town is a must). We narrowed down the options and a couple stuck out.
Moto
and Alinea. We decided to check out both but we couldn't get reservations for Alinea! You see, Chicago has numerous top restaurants that are top-notched and if you wish to patronize it, you won't be able to get a seat if you simply walk in. Most places require a reservation about a month in advance. We booked for Moto a month before online and called to confirm.
For those that watch 'Future Food' that is currently showing in the U.S, yes, this is the same Moto restaurant that is featured. What is all the hype about it? The chefs Homaro Cantu and Ben Roche are world renowned chefs but not just regular chefs that cook up a storm. They are molecular gastronomists that own patents and re-created a whole new idea on how food could be served in a scientific way!
The food is served in the form of a 'tasting menu' i.e. much smaller food portions and it will be interactive and your sensors will be constantly activated and surprised. Liquid nitrogen is commonly used in the food, everything created is a science in itself, the serving staff are complete knowledgeable and experienced with every aspect of the food preparation and presentation and will explain every single dish and detail on how it is prepared and the ingredients and science behind it!
The chefs don't adhere to a particular type of cuisine, you will experience all types ranging from Asian to Japanese to French, American and more. The traditional dishes of sushi and lasagna is taken to a whole new level with unexpected twists and surprises. Like Moto states,
come to expect the unexpected.
If you check out the video that is screened on the website, that was how our entire dining experience was. It was unexpected and constantly filled with surprises. Their menu changes by the way, so whatever that we enjoyed might not be what you will experience if you visit Moto. We decided that we
had
to get a booking regardless of the fact that this would be a very pricey experience (we each paid USD$220 including 3 cocktails) but we usually have a budget blowing dinner per trip and this was definitely it!
It was one of the key highlights of our trip (aside from *ahem the marathon itself :P) and we were looking forward, badly, to Tuesday evening to arrive. We went with extremely high expectations and were rather worried that it would turn out to be all hype with food that looks good and presentable but mediocre tasting. But glad to say, right from the start, it was truly, an amazing experience. From the impeccable service to the unexpected surprises, it was well worth the money that we paid for.
Moto is only opened for dinner and it's situated in the meatpacking district which is kinda strange for a high end restaurant. It is very quiet and isolated and it isn't one of those places that you can just walk in by chance. You have to
know
about Moto in order to find it!
As we sat down, we were given a drinks menu and informed that our menu was being prepared as we spoke. The menu comes edible in the form of a thin and crispy slate of cheese and there are only two options. 10 0r 20 course. It is a bit like Omakase where you can't exactly select what you want as it is all decided by the chefs. However, they will ask if there's anything that you don't. You are totally allowed to take pictures - they would even hold the dish for you and encourage you to tweet/facebook but leave your ringer on silent. The only rule is that everyone at the same table needs to order the same course option.
More on the review of the actual food, which took us 4 hours to go through the entire 20 course, below the cut. Enjoy.

Moto restaurant
945 W Fulton Market
Chicago
Illiois 60607
+1 (312) 491 0056

Executive chef - Homaro Cantu
Pastry chef - Ben Roche
Chef de Cuisine - Christopher Jones
Sous chef - Darrell Nemeth

(
Collapse
)