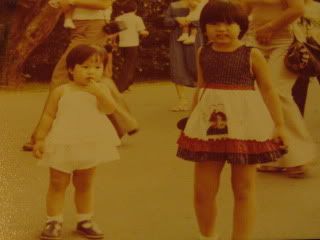 Circa 1981 (I think)
My parents often tell my sis and I, that we need to be close to each other and love each other because there will come a day when they are both gone from this world and we only have each other as the next closest kin and will need to support each other.
I would have gladly spoken at my sister's recent wedding but she being a very simple lady, decided that they won't be any long and grand speech. And perhaps, I'll write it here instead.
My sis had 3 grand years to enjoy being the only child and being spoilt by 4 doting grandparents. My parents lived in London for 3 years and my sis was initially supposed to tag along but some complications arose so she stayed in Singapore under the loving care of my grandparents. When my parents returned from London, it was to have me delivered in Singapore. I'm not sure how she reacted, to being the center of attention to having to share that attention, but I guess you can say, she's known me from the day I was born and was pretty much stuck with me for life.
I wasn't the easiest baby or kid to get along with. I was hyperactive and hardly slept, I was infamous for my bawling sessions. My parents often said that they wanted perhaps 4 kids but after they had me, they decided that the factory was closed! I was the perfect example of how a naughty child should look like - I came complete with curly brownish hair, an upturned nose and a voice that could scream the house down. I was also fat and chubby and was nicknamed - 'Tyson chicken thighs' by my ever loving sister. Even if she didn't adore me at that point in time, I am pretty sure she enjoyed having me around - for most of the times :P
I would follow her wherever she went. I think sometimes it annoyed her so she started to do funny stuff to me like dressing me up like Mr Potato - I have a photo of me crying with Mr Potato's eye glasses perched on my nose and the pipe stuck in my mouth. Since young, whatever she did, I wanted to follow. From the way that she dressed, to the kind of toys that she played with. We had pretend cooking sessions (stealing the fake leaves off my mom's plants), Ms Universe contest for our barbie dolls, play dough sessions and our favorite? Hiding under the heavy wooden dining table - our tree house.
Although we look very much alike, our personalities are poles apart. She's quiet, soft-spoken, patient, easy-going and unselfish. I am talkative, out-spoken, impatient, hyper and self-centered. I would try to follow her dress style but I could never fit into the slim pointy shoes with bows and ribbons, or the poofy dainty skirts and sweet appearance that she portrayed. I am clumsy with a bad sense of direction, she's not klutzy and has a great sense of direction. Differences aside, I never wished for another sister because we were matched to be sisters for life.
We had our rough patches together. Teen bitch fights and all the spiteful name-calling and 'I don't want to talk to you' phrases. We fought like there was no tomorrow. Whenever she was mad at me, she would kick my pull-out drawer bed to the far end of the room.
Despite all the 'I hate yous', I believed that deep down inside, she still loved me heaps. It was probably only after started working and I was in University and we both started dating seriously, that we started to get really close.
Whenever each of us had a bad break-up, the other was there supporting. I remembered when B passed away and it was on her birthday when I received the news, she cancelled her plans and came home with flowers and a gift for me, hoping to cheer me up. For the many times she kicked my drawer bed away and called me names, the times that she loved and cared for me made up for it a hundredfold.
So tonight I suddenly thought of her and decided to post the pictures. Hehe I chose the nicer ones of us :P
This post is dedicated to you Lynn, I know you still read my blog from time to time and looking at the photos, look at how far we have come :) Love you loads. xoxo
(
Collapse
)