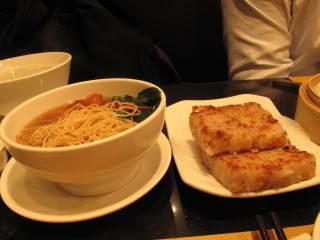 I love eating in Hong Kong. There are numerous 'Xiao (3) Chi (1)' or 'small eateries' and if it's local food, it's usually good. Dim Sum in Hong Kong is the best so far and had a little of it the moment we landed.
We met up with A, who was kindly hosting us again, for lunch. We were lucky to reach the restaurant a few minutes before the queue started to form. This place is known for its noodles and congee so we made sure that those dishes were included in our order.
I loved the congee! It was excellent! The other dishes were all good and we were duly stuffed. I wouldn't mind returning to this shop the next time I am here but I will make a mental note to come around 11am or have a late lunch as it gets really packed and you might have to wait for at least 20 minutes or so but it's worth it. I'm certain that I will re-visit the shop the next time I am back in Hong Kong.
Tasty Congee & Noodle Wantun Shop
Shop 3016-3018 (Podium Level 3)
International Finance Centre (IFC)
1 Harbour View Street
Hong Kong
+ 852 2295 0101
Mon - Sun : 1130-2300


(
Collapse
)