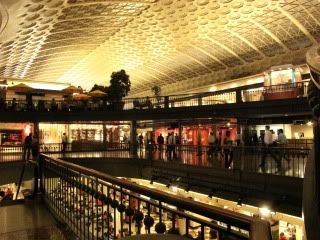 My favorite shot taken of the inside of the Union Station
B.T commented that I'm far behind my entries. That strange boy. He knows all about my dailies and trips (except the work trips where he isn't around) but he enjoys reading my blog. But I guess he's right. I've been back from Washington D.C for weeks and have yet to finish the entries on it! There is still Hong Kong to go but I've been busy juggling my time training for the marathon which zaps out a lot of energy out of me (and time), work is getting a bit crazier now and I am trying to squeeze in time to meet up with a friend once a week. I have a small list of people that I would like to meet up with this year!! So I really am trying :P
To side track a little, since I mentioned a little about work, missy here was stupid enough to get the dates of her 8am teleconference calls mixed up. So guess who reached the office at 730am only to discover that hey, it's actually on Thursday instead -_- Great. That means I have to wake up earlier for 3 days straight. Arghh.
So back to
Union Station
which is what this entry is meant to be all about. I have a fascination of train stations. Not the ones like the tube or the metro or the MTR but old school train stations. Anyway, it seems weird to want to check out a train station but I think it's cool to look at one with history behind it.
Frankly, I was slightly disappointed when I stepped in. I mean, don't get me wrong, the Union Station is nice but I kept thinking of the
Grand Central Station
in New York City and I can't get
that
station out of my mind. It really blew me away. When I stepped in, I really went,
WOW
There is just something about it that makes it special.
I'm too tired to type, so I'll just display all the photos here :)
(
Collapse
)