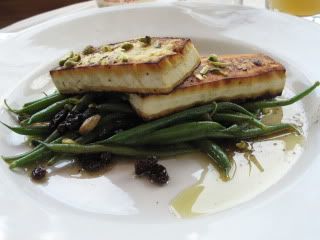 Crispy tofu with haricot veers and pistachios, raisins and lapsing vinaigrette
I'll be honest. I can't pronounce the name of this organic cafe-
Le Pain Quotidien
and neither do I know what half of the ingredients are! So why did I have a meal here? Well, it was near my hotel and it was quiet and empty and I just wanted a light meal. It actually turned out to be a really good food place.
The philosophy of this cafe is to serve good food and help conserve the earth. Ingredients are organic and high quality and the cafe is made of reclaimed wood and recycled materials. Energy-efficient lamps and environmentally friendly cleaning supplies and packaging are used as well.
Most of the food are baked in-house - the bread and pastries are baked daily. You can purchase home-made jams, spreads, granola etc at the little 'pantry' section. Customers might wonder about the long wooden table seating and there is actually a reason for it. Friends and strangers are encouraged to sit together at the communal table to share a meal and chit-chat. I spent quite awhile enjoying my lunch because the decor, the staff and everything about the cafe was inviting and warm.
It was a pity that I wasn't too hungry and only ordered one dish. It was a good choice though. The tofu was pan-fried such that it was slightly crispy and browned yet not oily and inside, it was soft and creamy smooth. I loved how the tofu was paired with roasted pistachios, plumped raisins and skinny long beans in an unusual vinaigrette. I was tempted to order dessert but I was pretty stuffed.
I'm still thinking of that crispy tofu and it was such a waste that I didn't have time to return! That's how much I enjoyed the food. And now I'm feeling rather hungry..
2001 P Street NW
Blaine Mansion
Washington DC
+1 (202) 459 9176
Mon-Thurs : 7am-9pm
Fri - 7am-10pm
Sat - 8am-10pm
Sun - 8am-8pm
(
Collapse
)