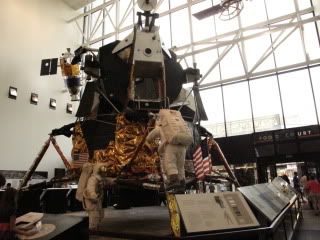 First landing on the moon
I just got back from a whirlwind trip in Hong Kong and superbly dead-tired. I gave myself 3 full days of rest from any form of training (except loads of walking) which is really rare when I go on a vacation. So I think I am going to suffer during my Insanity sesh later on.
Anyway, Hong Kong was great. I
do
love Hong Kong. 3 days was way too short to meet up with friends, shop, shop, shop and eat. It looks like we might be planning another trip to Hong Kong sooner than expected - before this year ends! In any case, I'm so dead tired from the 3 travels in July - Bali, Washington D.C and Hong Kong. Nonetheless, it was my well deserved break after a 6 month hiatus! I'm referring to personal travels by the way :P More on Hong Kong later..
Meanwhile ...
In Washington D.C, any museum that is by the Smithsonian, offers free of charge entry. Yay. I did think that I was kinda museum-ed out during my trips to NYC and Europe last year. So I wasn't exactly in a museum mood, which is quite rare for me. I landed up hitting only a few selected museums in D.C and even so, I'll be honest, I didn't spend as much time as intended!
The Smithosonian Air and Space Museum
is really popular especially with kids. If you are fascinated with anything to do with planes, you have to visit the Air and Space museum. The exhibits are large and cool and you can pay to do a simulation ride. Loads of historical facts and figures to read up on.
Maybe air and space isn't quite my interest, but if I was a fan, this museum is definitely a must-go.
(
Collapse
)