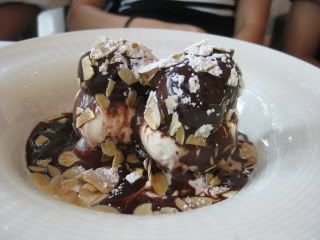 Chox bun filled with vanilla ice cream in warm chocolate sauce and sliced almonds/profiteroles
The birthday celebrations for the July babies (Mom and me) came at a much later date. It was hard coordinating everyone's schedule as July was a travel month for my Dad, Sis and myself. My Mom sometimes wryly comments that my Dad and I are seldom not around at the same time as he travels when I'm in town and vice versa :P
I do look forward to my family meet-ups. As we all get older, it does get more challenging to find a common available time. But I think it's also all about making the effort and making small sacrifices. My family will always come first so as far as possible, I'll keep that as a priority and schedule the rest of the things around it. Sometimes, I do wish that B.T's family was living here and not on the other side of the globe.
Each time we celebrate a special occasion, we try to patronize a new place otherwise, we'll fall back on our old favorites. Lynn suggested
Au Petit Salut
, a French restaurant. Good choice! I'm usually not a big fan of French cuisine - my Dad loves it, but I was not really in the mood for Italian, Japanese or Asian.
If you visit Au Petit Salut during lunch time, the menu is straightforward - set lunch is the only option with choice offerings for the entrees, mains and dessert and depending whether you opt for the Executive Set lunch (SGD$58++) or standard set lunch (SGD$30++).
My favorite dish was the foie gras, red wine braised beef cheeks and the chocolate profiteroles were excellent. The rest were fine but if I were to compare with
Metis
, I think Metis is better at almost similar price points and I still can't get over how good that pistachio souffle was!! I like St Julien too but it's much more pricier.

Au Petit Salut French Restaurant
40C Harding Road
Singapore 249548
+(65) 6475 1976

Mon-Sat -1130-1430, 1830-2230
Closed on Sun

Dress code - smart casual

(
Collapse
)