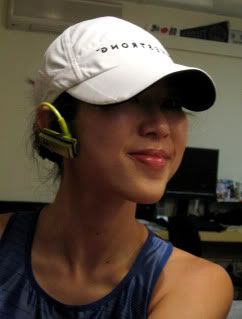 Officially wear-testing the Sony W252 - in a race!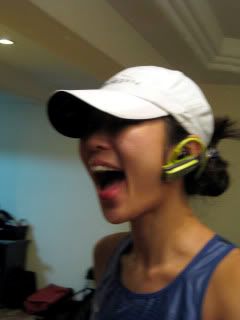 Yay!
All geared up and ready to go - 615am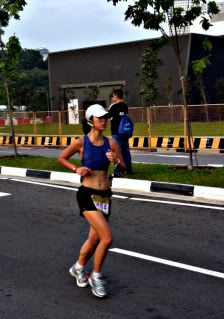 B.T took this nice picture as I was running towards the finishing line :)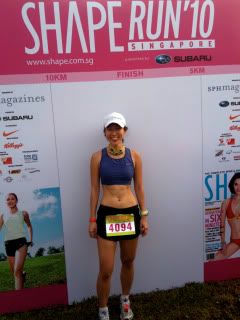 I've participated in Shape Runs since it first started and this is the first time that I'm taking this picture :P
It's been awhile since I last did a race and frankly speaking, I was in fact a bunch of nerves! I've done many 10Ks but somehow, it feels
different
doing one under race conditions.
I had my favorite peanut butter jelly sandwich for breakfast (at 530am). I wasn't exactly hungry so it took me some time and a lot of water to wash it down. My stomach started acting up weird and I was running to the toilet thrice in total -_- It was a good thing my nose and ear (from an infection) was hurting less and I was feeling better than I did yesterday.
By the time I reached the start line, it was a few minutes to flag off. I didn't have time to warm-up and was just fiddling with the Sony W252 - trying to find my favorite start song. It's quite strange but I started running the race to Taylor Swift's Love Story! And I replayed it thrice!
I think the 10,000 of us running today's race were blessed with good weather. It was quite cooling, hot but not humid. The sun was up and bright and I did regret not bring my sunnies. I landed up running with my head down for some parts of it. I'm not sure if I started off to fast in the beginning since I actually take an average of 3km to warm up. But in a 10km race, 3km is too long to take for warming up. So I tried to keep the pace that I wanted to for the entire route. I was feeling okay for most parts of it which was good.
I have to commend the Shape team for doing a good job this year in improving the route and massively reducing the congestion. This time around, the 10km and 5km runners didn't merge and had different finishing gantries. Compared to last year where the merging of 10 and 5K runners caused a major human jam at the last 1.5-2km and left many of us frustrated as I for example, was weaving in and out groups of people that were walking - which is fine but it's better to keep to the side so that you don't get into the way of those running through. I was happy that during the race, it wasn't congested and I had a comfortable amount of space around me.
I enjoyed the race and it was great seeing 10,000 women out there on a Sunday morning having fun. Whether it was your first 5K or first 10K, kudos to taking that first big step forward :) The fact that the race was well organized made the experience better. The only improvement is that perhaps one more water point could be added. There were only 3 in total and for the stretch between the first and second water point, I was getting really thirsty. I think I've read somewhere that for running races, it is recommended that water points at placed at every 2km - more so in this hot weather of ours.
According to my Garmin, I clocked in 56:18 for 6.25 miles which is exactly 10km. Well done Shape Run for the accurate distance measurement! My average pace was 9min/mile. I think this is my personal best record although not the target time that I am hoping to achieve. Methinks I need to spend more time on the track working on my speed and pushing myself to run harder. B.T thinks I'm too conservative in the effort that I put into the runs. I do admit that I am quite cautious as I am afraid of over-pushing my limit and resulting in me collapsing.
By the way, this is what I have to say about the Sony Walkman W252 :P
Hehe. I'm loving this app on the iPhone :P
Anyway, I typically don't use new gadgets or gear for the first time on race day itself. I'll use it for at least a few training runs - especially for shoes and apparel. When it comes to gadgets like the Garmin (which took me awhile to figure everything out), I needed quite a few runs to learn it well. However, for the W252, I was open to using it for the first time during the race. I was confident that the product would perform as promised.
The verdict?
Sound quality is good and controls are intuitive. Right side - back button (rewind, play/pause, forward), middle button (decrease volume), front button (increase volume). It was lightweight and it didn't bother me. Though, as my ears are quite small, it didn't quite fit properly all round. During the run, it never did once fall out of my ear but I was obsessed with pushing the player into the horizontal position! I have no idea why I kept doing that because on hindsight, it didn't matter if the player slipped to the 'vertical' position as the earbuds still stayed inside my ear.
I'm really enjoying this product and looks like I'll be running more with music now again :)
On a side note, since my program required me to clock in 18 miles today, we went out for another run close to noon. It was so hot and I made the mistake of eating half a bowl of cherries just before I headed out - took a long time to digest and made me feel bloated and gave me stitches, so it wasn't a quality run. Landed up doing a jog-walk and decided to head back home after 6 miles. As B.T said, it's better to rest at home then to do 'junk mileage'.