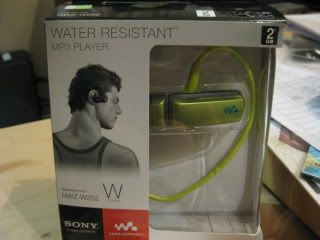 The newly launched Sony Walkman W252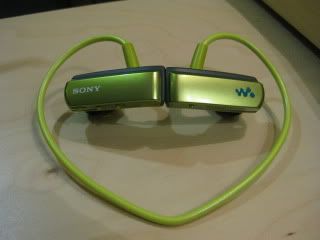 It's heart-shaped!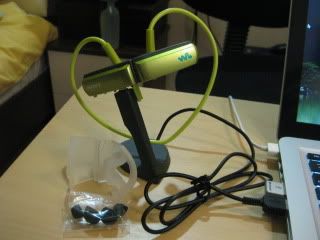 What's included in the box - the player, USB docking station, spare earbuds, plastic storage holder and the operational guides (not shown)
Some time last year, Sony first introduced the Sony Walkman W series W202 - a wireless music headset optimized for sports activities. In May 2010, Sony Singapore launched the latest addition of the Sony Walkman W series - W252 which is an improved version of the W202. The key feature of the W252 is that it is
water-resistant
and washable! This means that you can run with it even in rainy conditions and give it a rinse under running water!
I was delighted when the good people at
Sony Singapore
invited me to be part of a collective brand ambassador group across Asia. I am honored to be a Sony Walkman Runner that will wear-test this cool new product and I will be using it during my various training runs and probably even during the Chicago Marathon.
I am really excited to wear-test this product because Sony has been one of the pioneers in audio innovation - I think everyone remembers how they came out with the Walkman and the wide spectrum of cool products that they have launched over the years. I have just synced over my 'Runnaholic' playlist to the W252 and will be sharing my experience on the product. So watch this space for more insights soon!
Meanwhile, here are some cool techbytes about the Sony Walkman W252 -

... Water-resistant and washable
... Wire-free!
... Music transfers via the included Content Transfer software is a breeze - via iTunes, Windows Explorer or Windows Media Player. Supported audio formats include MP3, WMA, AAC-LC and Linear PCM.
... The ZAPPIN ™ feature allows you to quick browse through your music by playing the main chorus of each song.
... Battery lasts for 11 hours - full charge takes just 90 minutes. 3 minutes of charging gives 90 minutes of battery life!
... Storage capacity is 2GB
... W252 has a magnet that connects the left and right earpiece. Purpose is to facilitate easy wearing and connecting the magnets together shuts the power off.
... Extremely lightweight at a mere 43g
... Retails at SGD$129 (inclusive of GST) and is available in 4 vibrant colors - pink, white, lime green and black. (I was given a choice of color option and I went for the green because it's such a fun and vibrant color!)