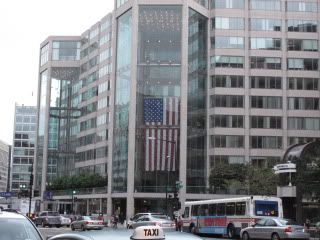 I've never seen so many American flags all over the city before
I'm back in the US of A. It feels good.
I took my first trip to the US when I was 11. Then, I visited Europe mainly thereafter. It was only 3 years ago where I made my second trip to the US. Since then, I have been visiting the US between 2-6 times a year. So far, I am not complaining although the long flight there is a killer.
It has been so hot and humid - yes humid, here, that I wished I'd packed in only SHORTS and skinny tops. I am literally perspiring buckets and soaking my clothes. Leggings is not a good idea in this weather.
The Washington D.C, as promised by TS, is a fantastic place. It feels very 'stately' and you will never forget that you are in the US because there is an American flag flying at almost every corner :P Getting around on my own was a bit daunting initially but with proper planning, it wasn't that bad.
I have been so busy walking around the entire day, that sad to say, I have not been able to do any of my training :\ First time on my travel! Though I travel almost monthly for both work and personal, I always manage to squeeze in runs and cross training regimes. This time around, except for the short 4 mile run around our area, I have been so exhausted - to the point that my calves, shins and glutes are aching, that I crash out at 10pm. I supposed this will be a break week for me and I'll get back into the training mode when I'm back.
I'm half hoping that there will not be any travels in August because I still have one more trip end of this month and trips in September and October - so far.
On a side note, we have finally bought all our travel tickets. Phew. Except for the one in December but we have loads of time for that. Uh I think.