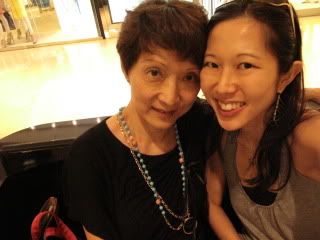 Do we look alike?
I turned another year older yesterday and wherever possible, I took a day off. In fact, I was told by a colleague that an old Chinese saying goes - if you work on your birthday, you will work for the rest of your life.
Okay.
Point noted.
Birthdays to me now are different from how I used to view them. Definitely no fancy outlandish parties, heavy drinking and endless celebrations. Instead, I prefer quiet time spent with loved ones.
I spent the day running some errands and having a long over-due lunch with Mudder. She was quite the sweetheart to meet me and give me a lunch treat. I love the food at Marmalade Pantry and I had cupcakes to take-away. Yay! Limonata and I decided to be daring and go for the Red Velvet with coconut shavings - I'm not a fan of coconut frosting etc but this one passed the test!
I treated myself to some shopping at Alldressedup - I think our local brands have cool designs (MU, now defunct Song+Kelly21, Alldressedup, M:)phosis are a few of my favorites), the unexpected detailing, rouching, scrunching and asymmetrical hems are the common design lines that I love of these brands. Then, I couldn't resist but to add another pair of ballet flats to my collection. Urk. I need more s.p.a.c.e. I just can't get enough of flats and I keep looking at heels but I stop myself because I know I will rarely wear them!
Everyone asked if I did any major celebration but that was all I really did plus rounding up the day with a relaxing evening with B.T. We devoured 6 fat cheese frankfurters, salad and like he said, spent some quality time together. And that was really more than enough for me.
Plus the numerous sms-es that started coming in from the night before and when I woke up, I had a couple in my inbox, many FB notes, private messages and emails, I had say that I am one blessed and lucky girl! It is nice to be remembered and to have friends and colleagues that take the time and effort to wish me. And so I tried my best to reply to each and every greeting.
Cheers to a brand new year and a happy and healthy year ahead :)
(
Collapse
)