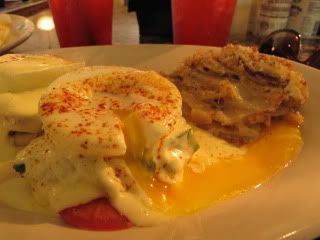 Double eggs benny or rather, florentine
I am a bit of a creature of habit. I tend to re-visit the food places that I like.
This trip, was no exception - although I did manage to check out new places. I guess when you are also with a team that prefers familiar food places, it's hard to be adventerous. For a weekend brunch,
Meriwether
is one of my favorite restaurants in Portland for a good eggs benny. Serving sizes are typically American sized. I can never finish up my portion of double eggs florentine/benny with potato gratin. It does hit the spot but it is a heavy meal! I don't think I'll be craving for it anytime soon!
(
Collapse
)