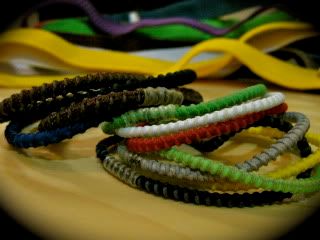 Stayput ponytail holders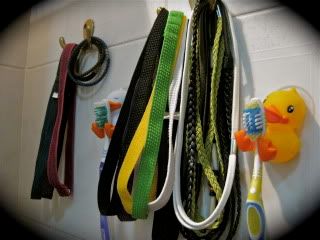 Slideproof headwraps
Whenever I travel to the States, one of these will be on my shopping list for friends.
Goody hair products
are one of my favorites. Practical, great colors and designs and very affordable. I wished we had more of it here. In fact, I don't think anywhere here in Singapore sells them right?
Since young, I have had this weird habit of wearing an elastic tie around my right wrist. It's there for practical reasons. It used to be scrunchies when I was younger but now, I prefer them simple. Anyway, I will use the Goody skinny stayput ponytail hair-ties for everyday use and the thicker ones for sports.
I have very fine hair. So much so that all my hair stylists get exasperated with it. It is hard to style because it is so fine and spraying on a lot of mousse, hair spray, gels and whatnots well, may or may not work. Anyway, I am just glad that I have a lot of fine hair :P
With hair like mine, I find it difficult to hold my hair in a ponytail, especially when I am running. So these stayput holders with non-slip ridges are really a God-sent. Plus, I can easily pull off the elastics without pulling out a clump of hair. I love the hairbands too especially for yoga sessions - keeps the stray hairs away.
I have them in a multiple of colors - more at my house. I hope that they will never go out of sale because I am not sure if I can find a similar substitute.
What hair accessories do you use when you engage in sports?