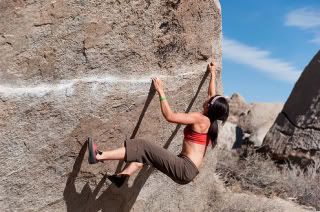 Annie - Bouldering
30 year old
Annie Duong
was one of the first few to come to mind when I thought about this little project of mine. I would say, she has pretty much inspired those around her - me included, with her passion in running and sports. Whenever Annie posts something on Facebook about her recent win at a race or a new running pace that she has accomplished, she makes me want to lace up my runners and head out right away. She is in fact, one of the few girls that I know, who has qualified for Boston, for her age group!
An engineer by profession, Annie originated from Potomac, Maryland and currently resides in beautiful Portland, Oregon. I am constantly amazed with the amount of activities she manages to pack into her schedule on a weekly basis - running (5 times weekly), rock climbing, dragon boating, bike-commuting. She participates in each sport with much gusto and passion and admittedly, I was daunted when she invited me out for a run when I was in Portland. I had this mental image of me frantically trying my best to chase after her while she went at her slow and easy pace which would be a pace that would leave me huffing and panting.
The great thing about Annie is that despite her achievements, she remains extremely humble and down to earth. When D gifted me with a foam roller for my birthday, I spent my time searching YouTube videos for instructions on how to use it. Finally, I asked Annie for advice and she was sweet enough to do a demonstration for me and take a photo and posted it up. I admire and love her attitude towards sports which is always striving to be better and improving wherever possible and it has shown through her results at each race.
(
Collapse
)
P.S Have you participated in the
iTunes card giveaway
:)