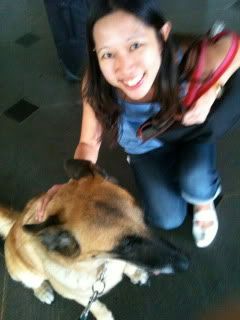 With Sarsi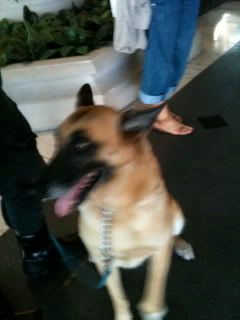 My job is to sniff!
I do love dogs. They have the natural ability to make your heart melt and they are loyal. However, I have to admit that I am quite afraid of some breeds.
I never quite like Alsatians as there is one a couple of doors away from my house and it always barks fiercely at me whenever I walk pass the gate. It sometimes looks menacing even.
At our hotel in Manila, or rather, in almost all the major hotels in Manila, security is pretty tight. You get your bags scanned and checked and there are trained dogs to sniff your luggages before you step foot into the hotel entrance. There was a really friendly dog called Sarsi and we all fell in love with her.
Her owner who is from a special force, takes really good care of her. You can tell from the way that he speaks of her, that he really adores her. Her fur smells nice and clean and she is smart as a cookie. Whilst waiting for our driver, I had a great time playing with her.
She obediently gave me her huge paw when I asked for it, and tried to kiss me but accidentally got her teeth on my fingers. She got scolded but I quickly told her owner that it's okay - it didn't hurt at all. She sat next to me, wagging her tail whilst I stroked the top of the head. The moment someone got off the car with a suitcase, she would get up immediately to sniff around. It was such a cute sight.
It was obvious that all the guests were in love with her too as many gave her tidbits and presents! And whenever she saw some of them, she would scamper up to them.
Sometimes, big dogs are really great fun to have around :)