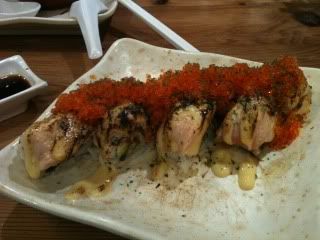 Shiok Maki SGD$15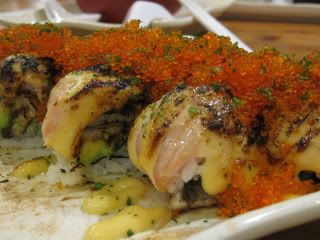 Close up of the Shiok maki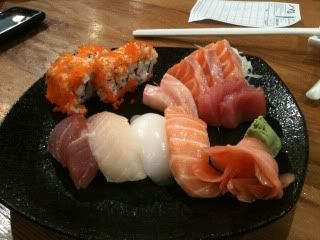 Decent sushi
It's almost dinner time and I am hungry! I have been thinking about Japanese food a lot and remembered that I had those gorgeous rolls at a Japanese corner inside a food court! Yes! A food court!
Most would think that Japanese food in a food court is mediocre. This one is an exception although technically speaking, it's not really a stall in a food court. Anyway, it was after a yoga session and we both were mad hungry. There were seats available so we just sat down at the nearest empty seat. And I'm mighty glad that we did because the food was surprisingly good!
I strongly recommend the Shiok maki which is great value and superbly yummy. It's a heavenly combination of chargrilled eel with salmon, salmon roe, avocado and mayonaise. Before it is served, a blow-torch is used to give chargrill the rolls. The result is amazing! The mayo tastes like melted cheese or almost similar to an Ebi Misoyaki (miso paste and mayo combined and grilled together with the prawn) and it is one of the tastiest rolls that I have eaten.
Mmmm methinks I shall head back there sooooon!
Koh Grill and Sushi Bar
#04-21
435 Orchard Road
Wisma Atria Shopping Mall
+65 9180 3805l