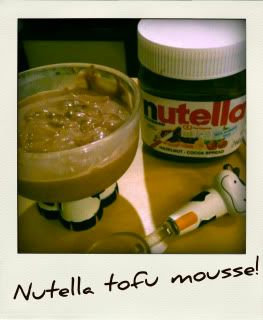 It's the best so far! Methinks!
It was a stressful day but I'd say that the best way to bust out the stress is to sweat it out in a good workout!
Felt better today and did a session of Insanity. I did take it easy and didn't push too hard. One thing that I learnt is that the moment you feel under the weather, stay at home, take a good rest, pop in some meds and it'll pass quicker than you think. I was quite lucky this time around.
Anyway, I digress.
I have been craving for chocolate mousse for a long while. And not just standard chocolate mousse but the tofu mousse that I
made
some time back.
The minimart sold out of the bar of chocolate that I usually use so I decided to try it out with Nutella! It's my favorite chocolate spread in any case and it can't go quite wrong right?
It turned out perfect!
I threw in the extra silky soft tofu (raw) into the blender, scooped in a few tablespoons of Nutella - you can vary it depending on how chocolatey and rich you prefer it to be, and blend it till creamy smooth. Leave in the refrigerator to chill and voila! Nutella chocolate tofu mousse!
I didn't put too much of Nutella because I like tasting the soya. Like I said earlier in my previous entry, it tastes like Mr Bean's soya ice cream. In fact it does resemble slightly melted ice cream! The hint of hazelnuts was amazing! I love love love Nutella and together with tofu, Mmmmmmm!
High in protein, loads of anti-oxidants in the chocolate and it's a great treat after a workout ;)