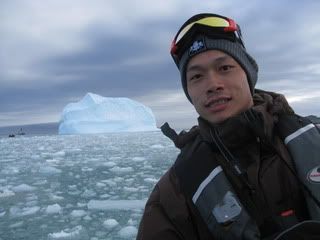 Wei, at an unusual location for a marathon
Wei Chen
, 35, is a New York born Physician who is currently residing in New York. Some might have the misconception that doctors lead a very stressful and otherwise boring life. For Wei, it is quite the contrary.
Being a runner myself, it is natural that part of my circle of friends are runners themselves. I know people that have ran marathons in major cities like New York, London, San Francisco, Singapore, Tokyo, Hong Kong, Manila and so on. For many, they not only participate in races in their country of residence, but do take the effort to make a trip overseas for races. It is quite common these days in fact. Wei ran the ING NYC Marathon with us last November. When I asked Wei where his next race was going to be, his reply took me by complete surprise.
The Antarctica Marathon.
That was his response. And it wasn't just to participate in a marathon. This interview is about one ordinary doctor who has taken his passion for running to a different level altogether and I believe, it will be quite an inspiring story for many.
(
Collapse
)